The Pearl City Foundation (PCF) held their annual Halloween Bash and Costume Contest on Friday, October 31, 2014 at the Momilani Community Center in Pearl City.
PCF event organizer's invited the community to come to the Momilani Community Center wearing their favorite costumes and enjoy a fun, safe Halloween night experience.
The Halloween Bash costume contest awarded 1st, 2nd, and 3rd place prizes in different age groups and themes. Prizes were donated by the Pearl City Foundation and by the events generous sponsors and supporters.
Everyone got the chance to go Trick or Treating for free goodies around the community center grounds stopping at dozens of candy and game booths along the way. Volunteers from several community organizations, businesses, Boy Scouts and area students manned the Trick or Treat and game booths. The volunteers also helped set up and break down the event.
The Halloween Bash featured the Momilani Community Center's Farmers Market with dozens of vendors offering a great selection and variety of specialty crafts and ono food and drinks.
Mahalo to PCF Executive Director Breene Harimoto and PCF Programs Director Naomi Tully-Ungacta for their efforts in providing the community the opportunity to enjoy and participate in what has grown to be the best and safest place to celebrate Halloween night with family and friends in Pearl City.
Also, mahalo to Paul Kudo from the Pearl City Lions Club for providing all of the wonderful photos taken by Paul at the PCF Halloween Bash & Costume Contest.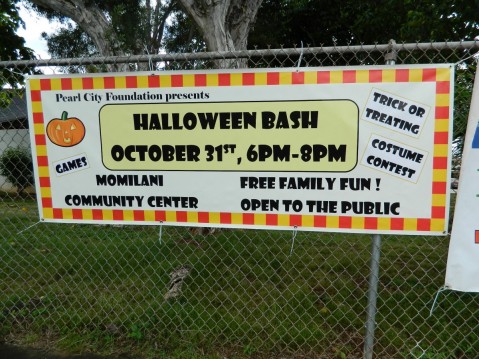 Photo courtesy of Paul Kudo, Pearl City Lions Club