Los Angeles, CA (November 13th, 2014)–Hailing from Hawaii, the young, ultra-talented and inspirational alternative rock band Red Light Challenge (www.redlightchallengeband.com) took home the Hot AC Artist of the Year award at the prestigious 24th Annual Los Angeles Music Awards, which was held last night at the Avalon Hollywood. This is the first time in the history of the LA Music Awards that a performer from Hawaii has been nominated for any award and won.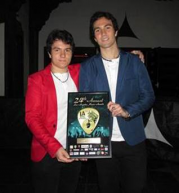 In 2000, the Los Angeles Music Awards was officially recognized as the opening awards ceremony for awards show season in Hollywood with a Certificate of Tribute from Los Angeles Mayor Richard Riordan. The 24th Annual Los Angeles Music Awards featured the presentation of 40 awards to independent artists and bands that were voted on by fans and industry panelists on September 25th at the Whisky A Go-Go in Hollywood as part of the Los Angeles Music Awards annual voting event.
"We are thrilled to have made history for Hawaii at the LA Music Awards this year." said Kyle Luster, the multi-instrumentalist and live drummer. "We are so thankful to our family, friends, fans and sponsors who supported us with votes. We can't wait to keep moving forward and lighting up stages around the world with our music.
Sean Luster, who is the lead vocalist and guitarist, added "We have been performing our latest original music in Hawaii and in L.A., and audiences have really liked the new songs. It's an honor to be the first band from Hawaii to ever be nominated and win at the LA Music Awards. We are excited to take the next leap forward with our music. Thanks again to everyone for their amazing support."
This year's event featured a fantastic line up of celebrities and Hollywood luminaries for a variety of achievements in the entertainment industry. The 2014 recipients who collected an award included: Danny Trejo (The Book of Life),John Savage (The Deer Hunter), Linda Blair (The Exorcist), Charlene Tilton (Dallas), Katherine Castro (The Social Contract), David Longoria (Record Producer), Bill Ward (Black Sabbath), Murray SawChuck (Magician), Christina DeRosa (Taxi Brooklyn), Frazer Smith (LA Rock Radio Host) and Marc Canter (Reckless Road: Guns N' Roses and The Making Of Appetite For Destruction). Other celebrities in attendance included: Brady Bluhm (Dumb & Dumber To) and Victor Orlando (The Gap Band).
The young alternative rock band Red Light Challenge is made up of brothers Sean (22) and Kyle (17) Luster. The duo is the first band from Hawaii to be nominated and win a Los Angeles Music Award in its 24-year history. Upcoming performances include: California State University-Channel Islands on November 14th, Pearl City High School on December 4th and Pearl City Elementary "Red Light Challenge, Green Light Go" Performance on December 12th 2014.
Follow Red Light Challenge at www.facebook.com/redlightchallengeband and Twitter: @RLC_Band_Hawaii
For further information on interviews and media coverage contact:
Liz Rodriguez at Liz@EMRMedia.com – USA: 1 310 435 3634