Submitted by Sheri Rolf, Rolf Advertising
A ceremony was held Friday, November 7 at the State Capitol auditorium to acknowledge and thank all District Teachers of the Year and to name the 2015 Hawaii State Teacher of the Year. This year's Hawaii State Teacher of the Year award went to Honolulu District's Catherine Caine, a teacher at Waikiki Elementary.
Ms. Caine also received a car from the Hawaii Automobile Dealers Association (HADA) who annually provides a car to the Teacher of the Year.
After a successful career as an auto manufacturer salesman, Masaru found his true calling when he began teaching at Momilani Elementary in 2007. His recipe for success is simple: create a culture of belief, optimism and perseverance, and students will achieve excellence.
A former Milken Teacher of Promise nominee, Masaru integrates standards-based learning into an original drama musical he writes, directs and produces each year. He also founded an after school running and fitness group called "The Momilani Fit Factory."
Masaru believes teachers must be lifelong students who are willing to learn new strategies and reinvent themselves. As Masaru stated: "I don't think I will ever become a perfect teacher, but I've had a lot of practice at becoming a perfect learner."
Congratulations Masaru!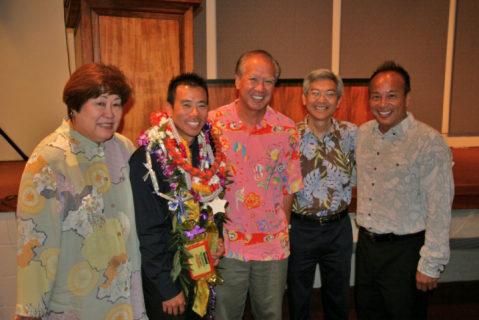 2015 Leeward District Teacher of the Year, Masuru Uchino (second from left) is pictured with (from L-R) ,

Momilani Elementary School Principal, Mrs. Doreen Higa, State Representative Gregg Takayama, State

Senator Breene Harimoto, and Pearl City / Waipahu District Complex Area Superintendent Rodney Luke.