MyPearlCity.com would like to say Aloha to University of Hawaii Warriors Beau Yap and Dave Lefotu as they finished their college football careers today on the road at Fresno State. Both Warriors represented their team, school, and hometown of Pearl City with pride and class.
They were forced at times during their careers as Warriors to work through injuries and adversity, but always with their heads up, with hard work, and the will to never give up.
Beau and Dave also serve as two examples of what it takes to keep our homegrown high school talent in Hawaii to play their Division I football careers as University of Hawaii Warriors and build the program toward becoming a D1 powerhouse and Bowl contender each season.
Beau had the opportunity to play in the PAC 12 coming out of Kamehameha-Kapalama (2010) as the Advertiser's 2009 Defensive Player of the Year. He chose to stay home and become a Warrior after taking a few school visits on the mainland.
Dave who is a graduate of Pearl City High School's class of 2010 is by far the best offensive lineman to come out of the Chargers football program and sign with a Division I school.
That's what it's going to take to keep our elite high football players home. It's the PRIDE to be a UH Warrior and a key contributor to a winning program and tradition. Beau and Dave's legacies will serve as the foundation for the future and spirit to make a difference as the Warrior football program strives to sign the best of Hawaii high school talent on the dotted line.
For those who become Warrior football players, the experience will live with them long after they take their Senior Walk, post season competition and accolades.
Mahalo Beau and Dave, HEART of a WARRIOR, PRIDE of Pearl City!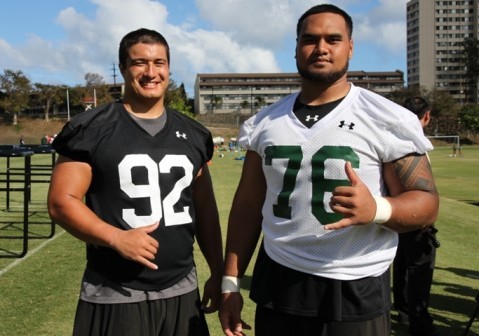 MyPearlCity.com File Photo | [email protected]
Aloha Beau & Dave!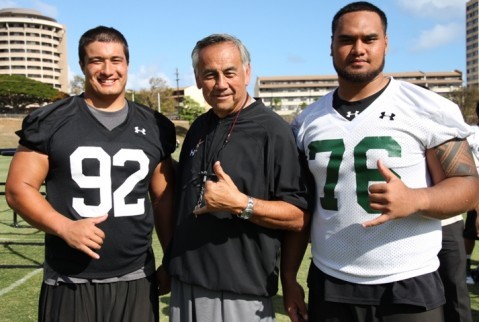 MyPearlCity.com File Photo | [email protected]
Beau and Dave are pictured with first year Warrior Football Head Coach

Norm Chow following practice in the Fall of 2012 at the University of Hawaii.