Tomorrow morning history will be made for the Pearl City community as the inauguration for homegrown Governor-elect David Ige will be held at the Hawaii State Capitol. The inauguration ceremony for Governor-elect Ige and Lt. Governor-elect Shan Tsutsui will be held at 12:00 noon. Seating for the public will begin at 10:15am.
Tomorrow will be a very proud moment for the Pearl City community, Pearl City High School, family, friends, and supporters of David Ige throughout his political career. David is the first born and raised Pearl City resident and graduate of Pearl City High School, class of 1975, to win a gubernatorial election and ascend to the top job in the state as Governor of Hawaii.
MyPearlCity.com would once again like to congratulate and say mahalo to David for his dedication and years of service to the Pearl City Community as we look forward to his leadership in guiding Hawaii into a future that we believe will benefit all the people.
Mahalo David!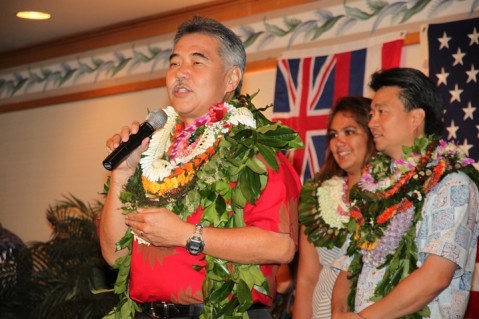 MyPearlCity.com File Photo | barry@mypearlcity.com
Governor-elect David Ige is pictured with Lt. Governor-elect Shan Tsutsui on

Tuesday, November 4, 2014 after winning the gubernatorial general election