The Pearl City High School marching band returned home this week after a wonderful, "Spirit of Aloha" performance at the 81st McDonald's Thanksgiving Day Parade in Chicago.
Submitted by Chadwick Kamei, Director of Bands, Pearl City High School:
The Pearl City High School Charger Marching Band, and Halau Hula Olana did a spectacular job showing the warm "Aloha Spirit" to the people of Chicago. It was a very cold day, and even briefly snowed before we stepped off on the parade route.
The performers were very cold waiting for the parade to begin, but once the parade stepped off onto State Street, they looked and performed like professionals. I was very proud of all our performers out in the parade.
The crowd along the parade route were lined up 5 people deep and were waving "shakas" and yelling "aloha" to us throughout the parade. It was a great feeling being able to showcase our state, but even more importantly, it was a great experience for our students to be able to visit such a great city. For some of our students, it was their first time in such a large city. They learned about the world outside of Hawaii and I believe that they have expanded their world view just a little. These trips help the students to grow up quickly and learn much more than what it on the music that we read.
All the students that participated had a great time and we are extremely proud of all their hard work and determination!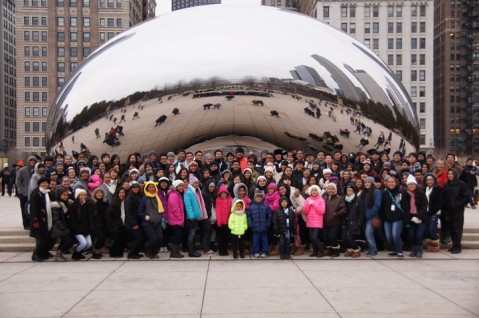 Photo provided by Robert Leong
Pearl City High School Marching Band and Halau Hula Olana from Chicago pictured at the Bean.