Submitted by US Med Urgent Care Pearl City:
The Hawaii Foodbank is extremely low. The public is invited to stop by 1245 Kuala Street, Pearl City, until December 26th, and the US Med Urgent Care Free Health Fair at Momilani Farmer's Market, December 19th, to drop off contributions.
US Med Urgent Care will hold its Holiday Food Drive, through December 26, 2014. The drive will benefit the Hawaii Foodbank. There are donation boxes located in the clinic waiting area at 1245 Kuala Street, Pearl City Monday through Friday 7 AM to 7 PM, Saturday and Sunday, 8 AM to 6 PM. People may also donate at the US Med Urgent Care Free Health Fair at Momilani Farmers Market on December 19th from 3:00 PM to 6:00 PM.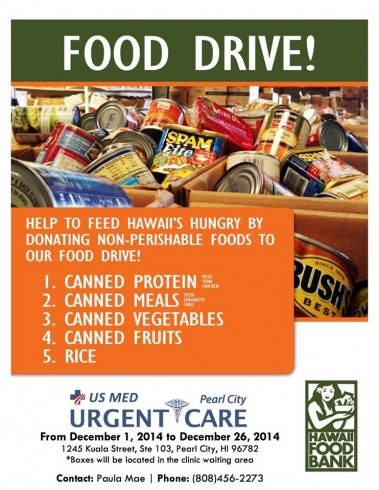 "The Hawaii Foodbank network helps to feed more than 20 percent of our state's population and right now our supply is extremely low. We only have enoughfood in our Oahu warehouse to sustain us for about 11 days," said Polly Kauahi, vice president of theHawaii Foodbank, Inc. "The generosity of US Med Urgent Care comes at a particularly good time and will go a long way to helping us replenish our supply."
Over the past four years, the number of people annually served by the Food Bank has risen from 183,500 to 287,000. Hunger knows no boundaries. The Hawaii Foodbank, through its network of island food banks and their local food pantries and meal programs, is providing food assistance to more than 123,000 households encompassing 287,000 Islanders—or one in five island residents—including 47,894 keiki and over 46,000 kupuna.
Donna Schmidt, CEO of US Med Urgent Care remarks, "Bringing health care to the community is our priority and we appreciate the opportunity to serve. Our philosophy of care is to reach individuals, families and groups by being woven into the fabric of our communities. We truly appreciate everyone's contributions which will help make this holiday season special for so many."
For more information, contact Paula Mae at 808-456-2273.
US Med Urgent Care Pearl City is a medical clinic providing immediate and urgent medical care on Oahu for Pearl City, Honolulu, Waikiki, Waipahu, Aiea, Kapolei, Kunia, Waipio, Makakilo, Halawa, Mililani, and Ewa Beach. The clinic provides a quick and affordable option for people needing immediate medical care and treatment for common or everyday health problems seven days a week – no appointments are necessary. It is a full service Urgent Care Center and has state-of-the-art technology to keep in touch with patients' primary care physicians. It also has a digital x-ray suite and procedure room. Along with immediate medical care, it offers drug testing, lab tests and provides basic services such as Sports and School Physicals, Occupational Health and Workers' Comp., flu shots, flu testing and treatment. US Med Urgent Care Pearl City is a DOT qualified collection site. It is located at 1245 Kuala Street, Pearl City. Phone: 808-456-CARE (2273).www.usmedurgentcare.com
US Med Urgent Care Pearl City is certified by The Urgent Care Association of America.

The Hawaii Foodbank is the only nonprofit 501(c)(3) agency on Oahu that collects, warehouses and distributes mass quantities of both perishable and nonperishable food to help feed Hawaii's hungry. Donated and purchased foods are distributed to over 200 member agencies on Oahu and Kauai. Last year, the Hawaii Foodbank distributed over 13 million pounds of food including over 4.4 million pounds of fresh produce to those needing emergency food assistance in Hawaii.
The Hawaii Foodbank is the state's only affiliate of Feeding America, the national Food Bank Network comprising more than 200 food banks across the country. The Feeding America affiliation is one we proudly share with the Hawaii Foodbank – Kauai Branch, the Maui Food Bank and The Food Basket on Hawaii island.
The Hawaii Foodbank is a partner agency of Aloha United Way and Kauai United Way, an integral part of Hawaii's safety net serving people in need.
To learn more about the Hawaii Foodbank or place a secure online donation, please visit www.hawaiifoodbank.org
Photo courtesy of the Hawaii Foodbank