Submitted by Jamie Young:
Pearl City Heatstroke; made up of 5 Highlands Intermediate School seventh grade students and 1 Palisades Elementary 6 grade student, placed fourth in the state's USTA Junior Team Tennis Winter Section Championships this past weekend (December 13-14) at Patsy T. Mink Central Oahu Regional Park (CORP) in Waipio.
After an undefeated regular season, Heatstroke placed fourth in the 12 and under USTA 3.0 division championship tournament.
At the Winter Section Championships, the six teams were split into two flights with the final rankings based on how many games are won in total. Under the Sectional scoring standards, our Heatstroke players placed fourth. The rankings from this weekend ended up as:
1) Waialae Country Club
2) Hawaii Prince Racquet Club
3) Waialae Iki 5 White Stars
4) HEATSTROKE
5) Aiea Warriors
6) Mililani 10s Kidz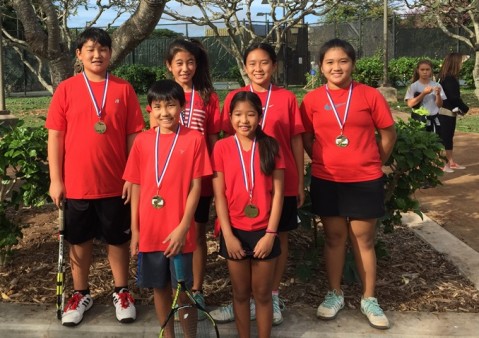 Photo courtesy of Jamie Young
From top left: Zachary Young, Cara Tamaye, Jade Balidoy, Sarah Yamashiro
Bottom left: Rylan Woo and Makanani Yamanouchi (6 grader)
CONGRATULATIONS HEATSTROKE!