Momilani Elementary School Grade 6 students performed to Seussical a Dr. Seuss musical by Lynn Ahrens and Stephen Flaherty on Wednesday, December 10, 2014 in the school cafeteria.
The students performed flawlessly with song and dance while entertaining the audience made up of school faculty, students, family and friends. The student performers sang and danced to over 32 songs that featured the power of imagination and belief in yourself.
The musical program depicted the Cat in the Hat as the emcee while steering the audience through the world of Dr. Seuss and his well-loved characters.
Wednesday's performance featured the best voices and singing talent that I have ever experienced at a grade school level musical production. They were fantastic and well prepared as they reached out and captured the audience with their talents and outstanding performances in each of their character roles.
There are a lot of people who work hard to help make the many performances throughout the school year by the Momilani Elementary School students in grade levels K-6 a huge success. Here's a special thanks listed in last Wednesday's Seussical program.
Special thanks to:

Hui O Momilani PTSO
Doreen Higa, Principal, Momilani Elementary School
Bill Ogilvie, Drama Teacher
Daniel Nieva, Teacher Assistant
Faculty and staff
Stage Props and Costumes:

Bill Ogilvie
Tracie Romualdo
Parents and students
Facilities Support:

Rona Kono
Eddie Antonio
Benton Sheram
Lenora Okubo
Annette Tanaka
Sound:

Lance Nishihara
Todd Tashiro
Photography:
Lynn Wakahiro
Videographer:
Masaru Uchino
Program:
Shane Asselstine
MyPearlCity.com would like to send our special prayers to Mr. Bill Ogilvie and wish him a speedy recovery from a recent illness.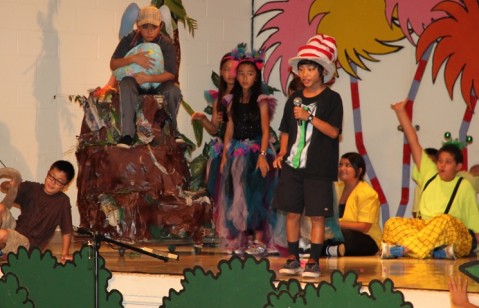 Photo by Barry Villamil | barry@mypearlcity.com
Ezra Arion is pictured on stage as the Cat in the Hat in the Wednesday, December 10, 2014
presentation of the Dr. Seuss musical, "Seussical" performed by sixth grade students at Momilani
Elementary School in Pearl City.