Jordan Taamu is defined by his leadership skills that inspire the will to win and the guts to get the job done as the senior signal caller for the highly successful and talented 2014 Pearl City High School Chargers varsity football team.
Jordan led his team to a runner-up finish in the 2014 Oahu Interscholastic Association (OIA) Division 2 championship title game and a first round berth in the HHSAA Division 2 Football championship tournament.
2014 post season honors recognized Jordan for his exceptional talent after being selected as the OIA Offensive Player of the Year and first team QB, and as a HHSAA State Football Honorable Mention selection at QB.
In 2014, Jordan recorded one of the best performances in school history at the QB position for the Chargers football program after compiling impressive OIA D2 passing and rushing stats that included completing 157 of 257 passes for 1779 yards with 29 touchdowns and 4 interceptions, along with 392 rushing yards on 66 carries with 2 touchdowns.
His success on the football field also includes his popularity amongst the PCHS student body as Jordan was crowned the 2014 Homecoming King. On Friday, October 3, 2014, Jordan entered halftime of the Chargers homecoming game with a lead over the visiting Kalani Falcons, was crowned Homecoming King, and rejoined his teammates for the second half and a 42-20 blowout win.
MyPearlCity.com is truly honored for the opportunity to name and congratulate Jordan Taamu as our final PC I.N.K. – Incredible Neighborhood Kids selection for 2014!
Great Job!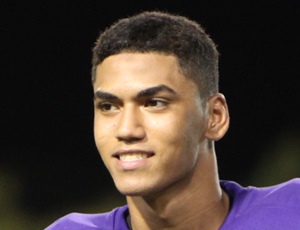 Photo by Barry Villamil | [email protected]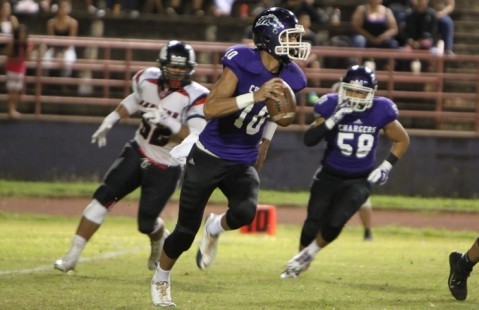 Photo by Barry Villamil | [email protected]
Jordan roles out against Radford in the Chargers 35-20 OIA D2 championship tournament

semifinal victory over the Rams on Saturday, October 25, 2014 at Pearl City High School.

Jordan threw five touchdown passes, completing 19 of 32 for 215 yards.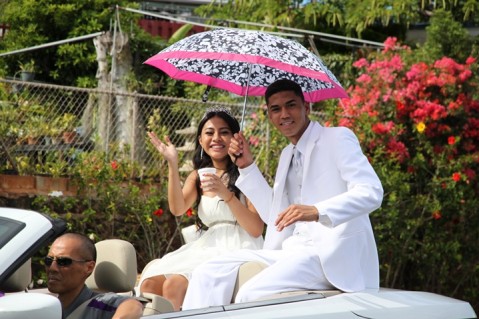 Photo by Barry Villamil | [email protected]
Jordan Taamu, 2014 Pearl City High School Homecoming King.