2015 brings in a new era in Pearl City High School Chargers baseball with the recent hiring of PCHS alumni Gavin Concepcion as the new varsity baseball head coach who will also oversee the junior varsity and varsity baseball programs.
Concepcion is a PCHS 2001 graduate and a former all-star catcher for the Chargers. He also played college baseball and minor league professional baseball. Concepcion has experience under his belt as a high school baseball coach and most recently as an assistant coach and summer league head coach at Kamehameha Kapalama of the Interscholastic League of Honolulu.
Concepcion takes over the helm of the Chargers baseball program from previous Chargers head coach Mitch Yamato who led the Chargers to a state championship title in 2011 during his tenure at PCHS. Concepcion brings in a young and eager coaching staff mostly in their mid-20's who are all former college players and also represent local high school baseball coaching ties.
With the start of the regular season a couple months away, Concepcion is excited to get conditioning and field practice underway. The Chargers 2015 on field practice schedule started on Tuesday, January 6, (the same day this interview was conducted) and coach Concepcion could already see his players making the positive transition and adjustment to a new coaching staff and coaching philosophies.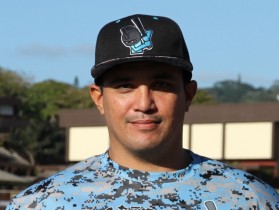 Photo by Barry Villamil | [email protected]
"It's been a great experience so far, being the head coach," said Concepcion. "There's a pretty good learning curve that I'm trying to pick up on. The kids every day since we started conditioning as far as getting into the weight room, and this being our first practice today on the field, they've come with a lot of energy. You can see them starting to buy into the system. buying into the philosophies that we're bringing to the program."
The Chargers are currently going through the feeling out process and working towards reaching their full potential by the start of the Oahu Interscholastic Association Red Western Division regular season schedule.
"Once we start going 100% and everybody starts understanding and getting more comfortable with one another, as far as the players and coaches go, I think there are a lot that we'll be able to grow with and a lot to look forward to with the upcoming season."
Concepcion comes with a successful and proud Pearl City Chargers legacy as a student athlete and is focused on sharing his PCHS experiences as well as his post PCHS experiences which includes an excellent college education and baseball career.
"Being a alumni of Pearl City High School, playing under Mel Seki and having the Pearl City program be such a prominent baseball program in Hawaii High School baseball, it's something I want to continue the tradition with. From when I was at Pearl City High School and the other things I did after high school in college and pro baseball, I want to bring that back to the kids. I want to try and share everything I've done the past 12 years since I left Pearl City and help these kids, these young student athletes and try and fulfill what they want to do in the future. Being an alumnus, it's a big opportunity for me to give back to what Pearl City offered to me when I was a student athlete here."
The 2015 coaching staff has bonded together with a philosophy of building their student athletes potential on the field as well as in the classroom with goals set on working towards a successful and productive future beyond Pearl City High School.
"My coaching staff is guys that I either played with or played against. (Pete Arakawa, Moanalua High School, Tripper Chong, Aiea High School, Lanakila Niles, Kamehameha Schools). All of them have attended college and played college baseball. Almost all of them have their college degrees, so I wanted to put that in the kids' minds that you're not just here to play baseball. The opportunity to play college baseball comes with an education. For us as a coaching staff, being able to go through that process of playing baseball and getting an education gives us the foundation to get the kids to understand that there are other opportunities that come along with playing baseball. I want them to understand that baseball and education go hand in hand. In order for us to succeed on the field, we need to also succeed in the classroom. From what I've learned through my experiences, the way you handle yourself on and off the field speaks volumes of the character you build."
The 2015 Chargers return 21 players from the 2014 roster. Loaded with talent, experience, and leadership, head coach Concepcion and his staff is excited about the team's potential this season.
"The good thing I see and I see it as a plus, with the coaching staff that I've put together, is we know very little about these players, so we get a fresh look at them. We get fresh eyes on them every day. We can work with them on certain things. We have 21 returnees from last year's roster which is a great opportunity for these guys because they've already played together. With that you can see the better players come out and start to take charge and lead the team. We're pretty excited about that."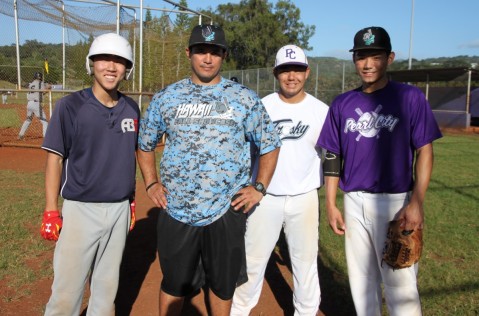 Photo by Barry Villamil | [email protected]
Coach Concepcion pictured at the Pearl City High School baseball diamond on the

first day of practice (January 6, 2015) with returning Pearl City Chargers varsity
baseball teammates (L-R), Colby Hirano, Sanyo Lo, and Matt Tsutomi.