Pearl City's Kayelah Arakaki had a hot hand pumping in 33 points with one 3-pointer last night to lead the Lady Chargers over Aiea 52-40 in Oahu Interscholastic Association D2 girls basketball played at Aiea High School.
Aiea's Emekina Lautalo dropped in 15 points and Aimee Chock contributed 10 points with two 3-pointers for the Lady Na Ali'i.
Pearl City's win improves their OIA D2 league record to 2-0, 2-4 overall.
Aiea comes in at 1-1 in league play, 2-3 overall.
SCORING:
Pearl City – Louise Pekelo 4, Jurey Jao 3, Ashley-Tianna Amorin 4, Kayelah Ararkaki 33 (1-3PM), Mana Borden 4, Brandee Huihui 4.
Aiea – Chantelle Shimabukuro 4, Kyle Johnson 7, Kailly Paulo 4, Aimee Chock 10 (2-3PM), Emekina Lautalo 15
JUNIOR VARSITY

PEARL CITY 29 (2-0, 2-4)

AIEA 22 (1-4, 1-1)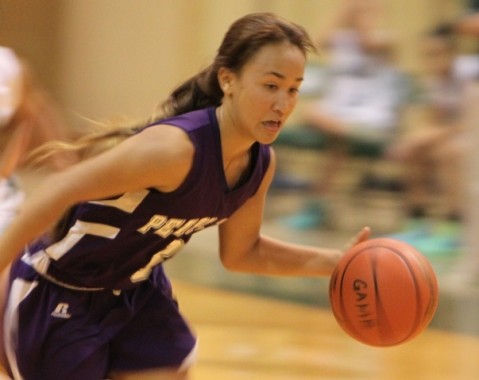 Photo by Barry Villamil | [email protected]
JUNIOR VARSITY PHOTO GALLERY

http://www.mypearlcity.com/photos/sports/pearl-city-over-aiea-29-22-oia-jv-girls-basketball-182015