The 2015 Hawaii State Legislature Opening Day Ceremony is scheduled for this Wednesday, January 21 at the State Capitol. The ceremony begins at 10:00am.
MyPearlCity.com would like to congratulate Hawaii State Senator Breene Harimoto who will be sworn in on Wednesday to represent and serve the residents in District 16 (Pearl City, Aiea, Halawa, and Pearl Harbor).
Senator Harimoto previously served District 8, Aiea, Pearl City, and Waipahu on the Honolulu City Council. He honorably represented the community as our District 8 City Councilman.
Senator Harimoto will serve in the legislature as the Vice Chair on the Senate Committee on Education and Transportation. He has a wealth of experience and knowledge in both areas of Education and Transportation in his former roles as a member of the Hawaii State Board of Education and the Honolulu City Council.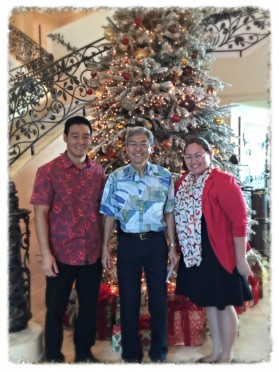 Photo courtesy of Senator Breene Harimoto
Meet Senator Harimoto's Staff
Permenant staff members: Robert Sato (far left and Linda Nunes (far right).