The Pearl City Lady Chargers earned a title shot in the Oahu Interscholastic Association Junior Varsity Girls Division I Soccer Championship Tournament after defeating (E1) Kaiser 1-0 on Thursday at Kaiser High School.
Gianni Meyers kicked the winning goal in the second half for the Lady Chargers.

W2 Pearl City will play W1 Mililani on Saturday, January 24, 6:30pm for the OIA championship crown. Mililani blanked E2 Kahuku 3-0 in the first of two semifinal match-ups played at Kaiser High School on Thursday.
OIA Western Division Co-Champions Pearl City and Mililani played to a 1-1 tie for the OIA Western Division title on Tuesday, January 20 at Mililani High School. Mililani won a coin flip to earn the #1 seed from the West. Both teams finished at 7-0-1 in league play.
GO LADY CHARGERS!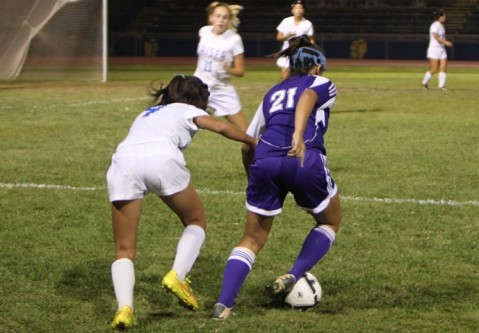 Photo by Barry Villamil | [email protected]
#21 Gianni Meyers moves the ball past a Kaiser defender and towards the goal in the first half.
Gianni scored the winning goal in the second half that advanced the Lady Chargers into the
OIA D1 JV championship title game against Mililani at Kaiser High School on Saturday, January 24.