Pearl City beat Waianae 7-2 on Friday to finish out the regular season in Oahu Interscholastic Association D1 Western Boys Varsity Soccer played at Pearl City High School's Edwin "Bino" Neves Stadium.
Seven Chargers scored a goal each with five goals scored in the second half in Pearl City's runaway win over the visiting Seariders.
Pearl City took a 2-1 halftime lead behind goals by Devin Ajimine and Hector Jacobo. Stanton Spencer scored for the Seariders.
The Chargers overwhelmed the Seariders in the second half by outscoring their opponent 5-1.
Pearl City finished out the regular season at 8-2-0 and in 3rd place behind Mililani (9-1-0) and Kapolei (8-0-2) in the OIA West Division. Radford (5-2-3), Waianae (4-5-1), and Campbell (3-2-4), round out the top six OIA D1 West teams that advanced to the OIA D1 Championship Tournament that runs from 2/2 – 2/7. Top six teams from both the West and East divisions qualified for the championship.
Top six finishers from the OIA championship tournamemnt move on to the HHSAA D1 State Soccer Championship Tournament to be held from 2/16 – 2/28.
Goals:
Waianae — Stanton Spencer, Triston Kapahua
Pearl City — Devin Ajimine, Hector Jacobo, Ryan Nakano, Tyler Kanemoto-Proprios, Luke Wyman, Matthew Cabacungan, Ryan Sagayaga.
ALOHA SENIORS!
The Chargers also bid Aloha to 9 very special seniors last night as they played in the last regular season home game of their very successful and memorable careers.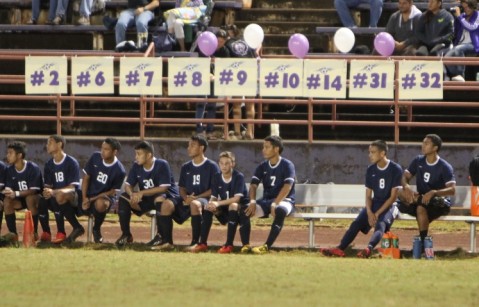 Photo by Barry Villamil | barry@mypearlcity.com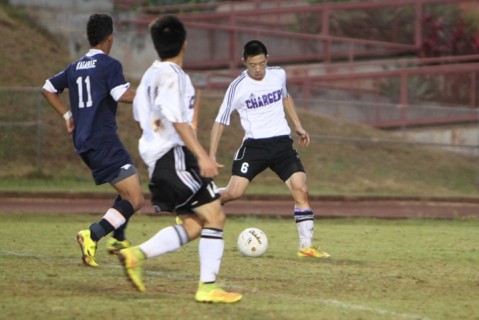 Photo by Barry Villamil | barry@mypearlcity.com
Senior Devin Ajimine scored the first goal of the ball game

from around 20 yards out midway through the first half.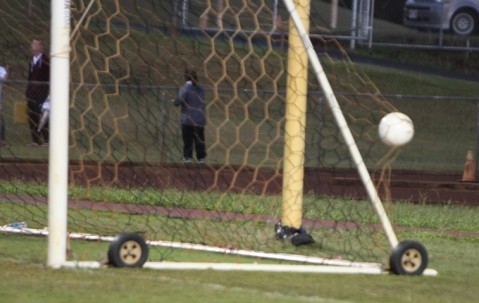 Photo by Barry Villamil | barry@mypearlcity.com
Devin drilled the ball to the right back corner of the net to give the Chargers a 1-0.