The Pearl City Lady Chargers open the first round of the Oahu Interscholastic Association varsity girls' championship tournament on Monday against Roosevelt at Pearl City High School's Edwin "Bino" Neves Stadium,
Pearl City brings in their OIA Western Division record of 7-2-1 and the W4 seed against Roosevelt who finished with a record of 5-1-4 in the OIA Eastern Division and is seeded E5 for the tournament. Kick off is schedule for 7:00pm.The wInner of Monday's match-up will face OIA East Champion and E1 seed Kahuku at Kahuku High School on Tuesday, January 27 at 7:00pm.
In the first game of the doubleheader scheduled at Pearl City High School on Monday, E3 Moanlalua will battle W6 Waianae at 5:30pm. The winner will travel to Kahuku on Tuesday to take on OIA West runner-up Aiea at 5:30pm.
GO LADY CHARGERS!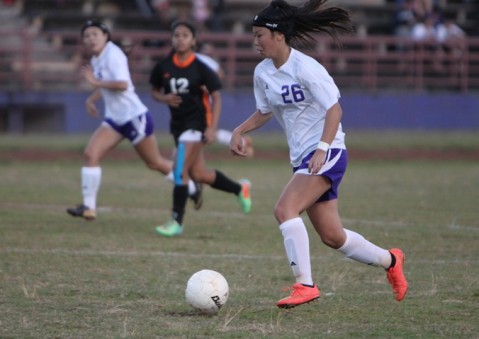 MyPearlCity.com File Photo | barry@mypearlcity.com