The Pearl City Lady Chargers, defending 2014 Oahu Interscholastic Association girls' varsity soccer champions, secured a HHSAA State Soccer Championship berth after defeating Aiea 3-1 last night in the consolation bracket of the 2015 OIA D-I soccer championships at Roosevelt High School.
Pearl City (8-3-1) will play Kaiser (7-3-2) on Friday for 5th place in the OIA championship tournament. Kaiser defeated Kapolei 1-0 last night at Roosevelt to advance.
Mililani, Kahuku, Campbell, Moanalua, Pearl City, and Kaiser will represent the OIA in the state tournament.
Last night's Pearl City win over Aiea also honorably lifted the Lady Chargers into the girls state soccer record books after earning their 31st straight state tournament berth that began back in 1984.
Goals:
Pearl City – Daelenn Tokunaga 2, Nikki Suwa, 1
Aiea – Jordan Hill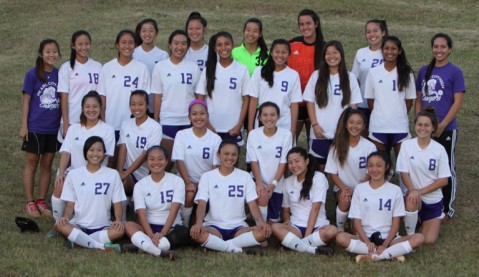 Photo by Barry Villamil | barry@mypearlcity.com
GO LADY CHARGERS!