Pearl City improved their regular season OIA Western Division varsity boys' basketball record to 6-2 after beating Waipahu on the road last night 54-40. Garrett Kanamu led the Chargers in scoring with 15 points. Pierce McMoore added 13 for the Chargers.
Waipahu's Elijah Taimatuia picked up 14 points to lead the Marauders.
Both teams played a tight first period (8-7 PC), before the Chargers pulled away midway through the second period by outscoring the Marauders 21-10. Pearl City entered halftime with a comfortable 28-18 lead. The Chargers took the third period 16-10 with the Marauders winning the fourth period 12-10.
The contest also featured multiple long range bombs from 3-point land (Waipahu 5, Pearl City 3).
The Chargers have won four straight and will face Aiea on Wednesday, February 4, 7:00pm at Pearl City High School.
@ Waipahu High School
Pearl City (6-2) 7 21 16 10 54
Waipahu (1-8) 8 10 10 12 40
Pearl City – Garrett Kanamu 15, Pierce McMoore 13, Tylor Canon 10, Kasey Villalon 8, Gibert Tapat 7, Sape Tupuola 1
Waipahu – Elijah Taimatuia 14, Airon Castaneda 8, Andrew Pecpec 6, Jasper Sebastian 3, Khyrsster Ipalari 3, Jeminai Solomua 3, Kevin Pilotin 2. Aerianne Paned
3-pointers – Pearl City 3 (Canon 2, Tapat), Waipahu 5 (Castaneda 2, Pecpec 2, Sebastian)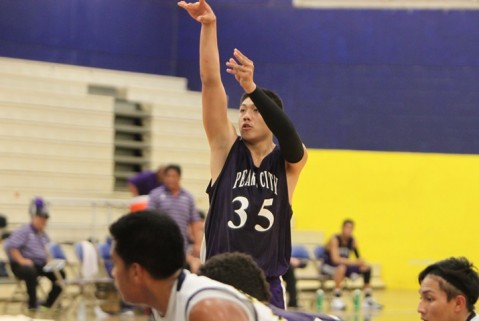 Photo by Barry Villamil | [email protected]
Pearl City's Garrett Kanamu led all scorers with 15 points