Pearl City had a rough time against the McKinley Tigers stingy defense last night in the opening round of the Oahu Interscholastic Association Division I Basketball Championship Tournament won by the Tigers 42-29 at the Pearl City High School gymnasium.
McKinley moves on to the championship tournament quarterfinals and will face E2 Kahuku tonight at Kahuku High School at 6:00pm. The loss, surprisingly ended Pearl City's post season with an early exit that dashed the Chargers hopes of a solid tournament performance and a berth in the HHSAA State Basketball Championship Tournament.
McKinley's Dan Villejo 14 and Macjun Otarra 11 led the Tigers in scoring. Tylor Canon 7 and Pierce McMoore 6 were top scorers for the Chargers.
@ Pearl City High School
1 2 3 4 F
McKinley (6-6) 10 9 9 14 42
Pearl City (8-3) 6 3 11 9 29
SCORING:
McKinley — Dan Villejo 14, Macjun Otarra 11, Huthifa Abdel-Juwad 6, Mark Burke 5, Gilbert Antonio 4, Jonah Howard 2.
Pearl City — Tylor Canon 7, Pierce McMoore 6, Sape Tupuola 4, Gilbert Tapat 4, Garrett Kanamu 3, Grant Carter 2, Juchan Lee 2, Blaise Scanlan 1.
3-Pointers — McKinley 1 (Gilbert Antonio) Pearl City 2 (Tylor Canon, Pierce McMoore)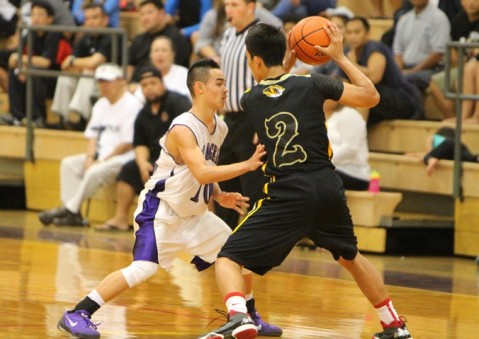 Photo by Barry Villamil | barry@mypearlcity.com
McKinley's Dan Villejo is pictured being guarded by Pearl City's Pierce McMoore in the 3rd period.

Villejo scored a game high 14 points for the Tigers while McMoore pumped in 6 points for the Chargers.