It's that time of the year again when the both the Pearl City Chargers boys and girls wrestling teams step it up a notch as they prepare for a run at Oahu Interscholastic Association varsity team and individual championship titles.
In last weekend's OIA Western Division Championships, the Lady Chargers won individual titles in four different weight classes. The boys brought home one individual championship title won by Jackson Fuamatu in the 223 Lbs. weight class (FALL 3:31). The boys are also the defending 2014 HHSAA State Champions.
Campbell won both the boys and girls OIA Western Division team titles last weekend at Aiea High School.
This weekend's OIA Varsity Team & Individual Championship Tournament begins tomorrow, Friday from 12:30pm and Saturday from 11:00am at Leilehua High School.
GO CHARGERS!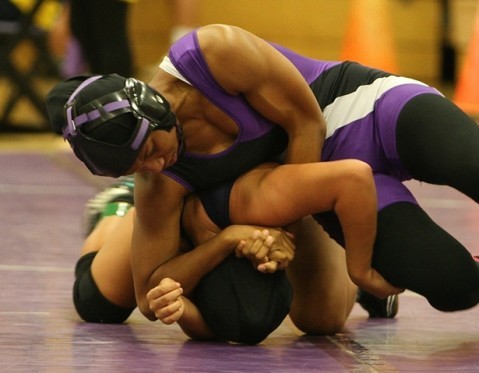 Photo courtesy of Steven Ching
Pearl City's Alexis Ford takes down her opponent during the final OIA regular season dual meet
tournament held at Pearl City High School on Saturday, February 7, 2015. Ford finished second
in her 120 Lbs. weight class at last weekend's OIA Western Division Championships.


Photo by Barry Villamil | [email protected]
Pearl City's Joen Tominaga is pictured in last year's HHSAA State Individual
105 Lbs. championship title match against Shana Dilliner of Kamehameha-Kapalama where she
finished second (D: 3-1). Tominaga captured last week's OIA Western Division Individual
Championship title after defeating Leilehua High School's Kayla Lono (D:3-4).


Photo by Barry Villamil | [email protected]
Jackson Fuamatu will play an integral role in keeping the Chargers in the hunt for an

OIA Championship as this weekend unfolds. Fuamatu is pictured here during a match in 2014.

The Chargers captured the 2014 HHSAA State Varsity Boys Wrestling Team Championship.

Fuamatu recently won the 2015 OIA Western Division 223 Lbs. individual championship

title over Campbell High School's James Connor Sullivan (FALL 3:31).

2015 OIA WESTERN DIVISION VARSITY INDIVIDUAL CHAMPIONSHIP RESULTS:

February 20-21 @ Aiea High School
GIRLS
110 Lbs. 1st Mikayla Abe (D: 7-2)
115 Lbs. 1st Joen Tominaga (D: 3-4}
120 Lbs. 1st Alexis Ford (FALL 3:26)
125 Lbs. 6th Page Hamada
130 Lbs. 1st Asia Lien Evans (D: 5-2)
141 Lbs. 3rd Netanya Kang (MD: 5-14)
148 Lbs. 2nd Jacqueline Fuamatu
171 Lbs. 5th Jennie Fuamatu (FALL 2:55)
BOYS
116 Lbs. 3rd Jasper Cantorna (D: 1-2)
123 Lbs. 3rd Charles Freitas (FALL 4:38)
129 Lbs. 7th Diamond Edwards (FALL 2:38)
135 Lbs. 3rd Makoa Cooper (MD: 2-12)
141 Lbs. 5th Baylen Cooper (FALL :31)
155 Lbs. 4th Kasey Kikuyama
198 Lbs. 2nd Matthew Keopuhiwa
223 Lbs. 1st Jackson Fuamatu (FALL 3:31)