Pearl City will host a pre-season baseball doubleheader tomorrow at Pearl City High School starting with a match up with Moanalua at 11:00am followed by Damien vs. Pearl City at 2:30pm.
Tomorrow's doubleheader is the final set of pre-season games scheduled for the Chargers before they open their OIA Western Division regular season on the road at Leilehua on Wednesday, March 4. First pitch is scheduled for 3:00pm.
CHARGERS 2015 OIA Western Division Regular Season Schedule:
Wed. 3/4 @ Leilehua 3:00pm
Sat. 3/7 @ Mililani 11:00am
Tues. 3/17 Radford 3:00pm
Sat. 3/21 Campbell 11:00am
Mon. 3/23 Waipahu @ Hans L 'Orange (XCAST – TV)
Sat. 3/28 @ Waianae 11:00am
Wed. 4/1 @ Waipahu 3:00pm
Sat. 4/4 Leilehua 11:00am
Wed. 4/8 @ Radford 3:00pm
Sat. 4/11 Mililani 11:00am
Wed. 4/15 @ Campbell 3:00pm
Sat. 4/18 Waianae 3:00pm
GO CHARGERS!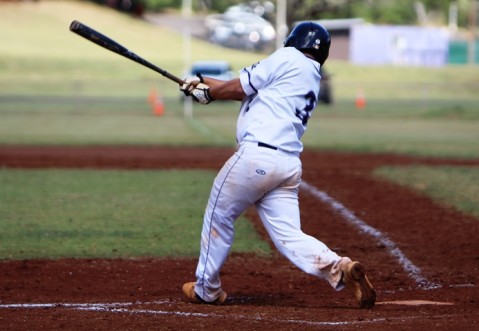 MyPearlCity.com File Photo | barry@mypearlcity.com
Davin Kapuras picks up an RBI in a pre-season game against Maryknoll at Pearl City

High School on Saturday, February 21, 2015. The Chargers and Spartans played to an 8-8 tie.