Submitted by Honolulu Museum of Art:
New Exhibition at Spalding House Sponsored By HAWAIIAN ELECTRIC Reveals How Artists
Turn The Simple Into The Complex.
Includes works by Pierre Bonnard, Ken Bushnell, Chun Kwang Young, and Kumi Yamashita; school tours focus on math elements in art.
Art is often about making the simple complex—artist Kumi Yamashita turns a single thread and nails into an intricate, detailed portrait of her niece. Origami artists Michael G. Lafosse and Richard L. Alexander turn single pieces of paper into graceful sculptures. And Vik Muniz creates the human form by simply punching holes in paper. These works are on view in the new exhibition Less =More, at Honolulu Museum of Art Spalding House through May 31. The exhibition and its related education programs are supported by a $30,000 grant from Hawaiian Electric.
The attention-grabbing show mixes the traditional and contemporary, big international names with Hawai'i artists. Anchoring the exhibition is Chun Kwang Young's giant suspended death star made of thousands of Korean newspapers folded into triangles, taking up an entire gallery. What unifies the works is the way they make tangible the principles of addition, subtraction, division, and multiplication—illustrating how they can be used to transform the simple into the complex.
"At Hawaiian Electric, we are very supportive of STEM and arts education (STEAM) which are foundational to academic achievement and career success," said Darcy Endo-Omoto, vice president-government & community affairs at Hawaiian Electric. "We're happy to partner with the museum to bring this latest exhibit to the community as it bridges the connection between math and art in a creative, fun way that all ages can appreciate.
Our grant to the museum also will subsidize expenses for more than 2,300 children in public and charter schools across Oʻahu to participate in guided school tours of the exhibit and hands-on education related activities so they can learn better and retain more of the concepts presented."
STEAM (Science, Technology, Engineering, Art and Math) is a type of curriculum that is gaining a foothold with state education departments across the country, including Hawai'i. Thanks to Hawaiian Electric's sponsorship, Honolulu Museum of Art educators have created an activity-filled Less = More tour that turns the exhibition into a math lab for students in grades K through 12. The tour is free and includes bus transportation and artmaking supplies.
On view are origami flower sculptures—comprised of a series of carefully calculated folds—by artists Michael G. Lafosse and Richard L. Alexander of Origamido Studio; sculptures by Chun Kwang Young, who creates highly textured surfaces by affixing enumerable paper triangles onto a large spherical form; and the astonishing portrait Kumi Yamashita made of her niece—using a single more than half-mile-long thread and thousands of brads. Traditional Japanese hand-cut katagami (paper stencils) demonstrate complexity through subtraction, and the concepts of duplication, multiplication, and exponents come to life in an installation mash-up featuring the work of French postimpressionist Pierre Bonnard and local printmaking collective .5ppi (who will have work in Artists of Hawai'i 2015). Rounding out Less = More is an exploration into Euclidiangeometry through the eyes of artist Kenneth Bushnell and his minimalist paintings.
LESS =MORE is part of a series of academically aligned exhibitions created by museum educators with curatorial support with input from school teachers and university professors. These groundbreaking exhibitions are designed to serve as a valuable interdisciplinary resource for the students and teachers of Hawai'i, as well as to present world-class art at Spalding House.
About Hawaiian Electric
Since 1891, when the Hawaiian Electric Company was established under royal charter by King David Kalākaua, Hawaiian Electric has powered the islands' development – from a Hawaiian kingdom to a modern American state. In a changing world, Hawaiian Electric is taking the lead in adding renewable energy and developing energy solutions for its customers to achieve an affordable, clean energy future for Hawai'i. For more information, visit www.hawaiianelectric.com,
About the Honolulu Museum of Art
One of the world's premier art museums, the Honolulu Museum of Art presents international caliber special exhibitions and features a collection that includes Hokusai, van Gogh, Gauguin, Monet, Picasso and Warhol, as well as traditional Asian and Hawaiian art. Located in two of Honolulu's most beautiful buildings, visitors enjoy two cafés, gardens, and films and concerts at the theater.
In 2011, The Contemporary Museum gifted its assets and collection to the Honolulu Academy of Arts and in 2012, the combined museum changed its name to the Honolulu Museum of Art.
Locations:
Honolulu Museum of Art: 900 S. Beretania Street
Honolulu Museum of Art Spalding House: 2411 Makiki Heights Drive
Honolulu Museum of Art School: 1111 Victoria Street
Honolulu Museum of Art at First Hawaiian Center: 999 Bishop Street
Honolulu Museum of Art Doris Duke Theatre: 901 Kinau Street (at rear of museum)
Website: www.honolulumuseum.org
Phone: 808-532-8700
Hours:
Honolulu Museum of Art: Tues.-Sat. 10 a.m.-4:30 p.m.; Sun. 1-5 p.m.; closed Monday.
The Honolulu Museum of Art Café: lunch only, Tues.-Sat., 11:30 a.m.-1:30 p.m.
Honolulu Museum of Art Spalding House: Tues.-Sat. 10 a.m.-4 p.m.; Sun. noon-4 p.m.
Spalding House Café: lunch only, Tues.-Sat. 11 a.m.-2 p.m.
Admission (permits entry to both museums on the same day):
$10 general admission; children 17 and under are free.
Admission is free to: shop, cafés, Robert Allerton Art Library, and the art school
Free days: First Wednesday of every month
Bank of Hawaii Family Sunday: The museum is free to the public on the third Sunday of
the month, 11 a.m.-5 p.m., courtesy Bank of Hawaii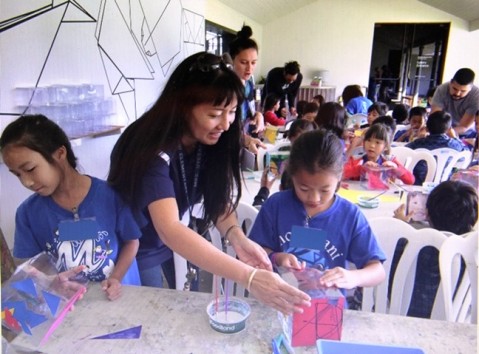 Photo credit: Honolulu Museum of Art
Momilani Elementary School 3rd grade teacher Mrs. Leona Uyesato works with a

couple of her students last week at the Honolulu Museum of Art's Spalding

House in Makiki as they participated in activities designed by HMA's educational

specialists to bring the math and art concepts together as they tour the exhibit.