The 13th annual Career, College and Job Fair held on Wednesday, April 8 at Leeward Community College in Pearl City, was another huge success for around 2000 job seekers, 70 local employers, and 30 college programs. The three hour event ran from 9am – 12pm on the school campus grounds.
Leeward Community College students were given the opportunity to gain valuable information with regard to applying to four-year institutions from a number of colleges who participated in the Career, College and Job Fair.
The free event also offered the public an avenue and information resource for potential employment and higher education opportunities.
Mahalo to LCC Job Prep Coordinator, Sandy Oshiro and her staff for a great job in successfully organizing and delivering upon a growing partnership between the community, local businesses, and colleges, that truly makes a measureable impact, while improving the quality of life for everyone involved each year.
Please log on to the Leeward Community College website at: http://www.leeward.hawaii.edu/jobs-events to learn more about the 2015 Career, College and Job Fair (participating businesses and colleges) and LCC programs.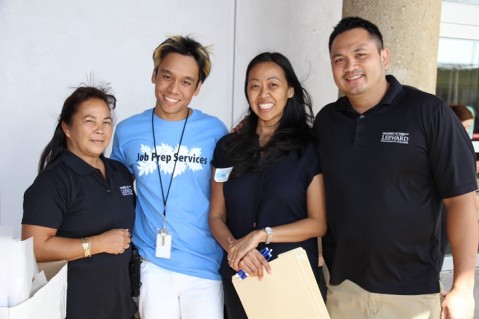 Photo by Barry Villamil | [email protected]
Mahalo to the LCC Job Prep Services crew!