Dane Kaneshiro and Chevy Sumile took care of business from the mound yesterday afternoon tossing Pearl City to a one hit, 5-0 shut out victory over Radford in OIA D1 West varsity baseball played at Radford high School.
Kaneshiro pitched five complete innings allowing no runs on one hit with four strikeouts and one walk. Sumile earned the save in relief allowing no runs, no hits and one strikeout in two innings of work.
Radford's Nickolas Martinez took the loss for the Rams. Martinez allowed four runs on four hits with no strikeouts and one walk in 2/3 innings. Jacob Nishitomi and Landyn Bartness pitched in relief for the Rams.
The Pearl City battery jumped on Rams starting pitcher Nickolas Martinez for four runs in the top of the first inning. The Chargers picked up another run in the top of the fourth inning. The Chargers out hit the Rams 8-1.
Pearl City improved to 6-3. Radford drops to 2-8.
The Chargers are in the home stretch of the regular season with three games remaining on their schedule against three teams that handed the Chargers losses earlier in the season. First up is league leading Mililani at home on Friday, April 10. The Chargers will travel to second place Campbell on Wednesday, April 15 and finish up the regular season at home against Waianae on Saturday, April 18.
@ Radford High School
1 2 3 4 5 6 7 R H E
Pearl City (6-3) 4 0 0 1 0 0 0 5 8 0
Radford (2-8) 0 0 0 0 0 0 0 0 1 3
Lead Hitters:
Pearl City — Nicholas Au 2-4, Run; Tyler Kushima 1-3, RBI, Run; Davin Kapuras, 2-3, 2B, 2-RBI; Christian Onomura 1-3, 2-RBI; Shaye Higa 1-4; Ansin Mostales 1-1.
Radford — Jason Matthew Profitt 1-2.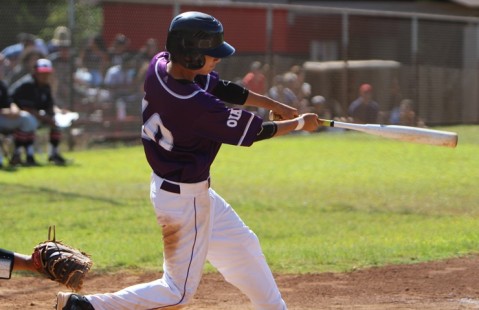 Photo by Barry Villamil | barry@mypearlcity.com
Nicholas Au contributed for the Chargers at the plate hitting 2-4 with a run scored.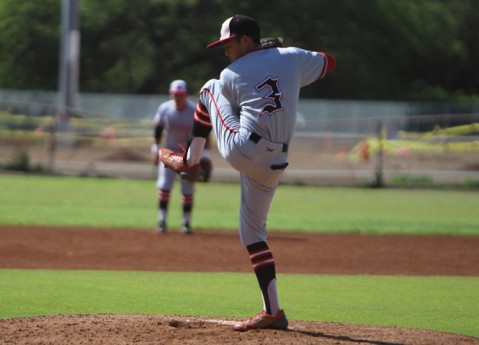 Photo by Barry Villamil | barry@mypearlcity.com
Radford's Jacob Nishitomi pitched 5 1/3 innings in relief for Rams.