The Hawaii Foodbank held their 26th Annual Food Drive on Saturday, April 18 with nine food and cash collection sites spread out across Oahu. The Pearl City Shopping Center hosted a food and cash collection site on the property.
Donations were made easy for the community as the shopping center site featured a drive-up, drive-thru service in the parking lot located on the Makai side of the property along Kamehameha Highway. Volunteers also collected donations from motorists on Kamehameha Highway and Waimano Home Road.
Mahalo to the Pearl City community for their generous support in helping feed Hawaii's hungry.
Also, mahalo to all the volunteers who gave of their time and their hearts to serve the community and help fill the Hawaii Foodbank shelves.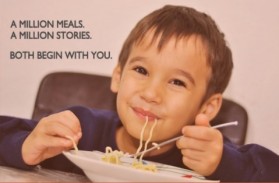 Photo courtesy of the Hawaii Foodbank