The Pearl City Chargers have their sights set on an OIA Division II Volleyball Championship which begins tomorrow night (Thursday 4/23) in the championship tourney semifinals as the Chargers will travel to Kaiser High School to take on the winner of today's match between E3 McKinley and W3 Waialua. Thursday"s semifinal tip-off is scheduled for 5:30pm.
The Chargers come in as the OIA DII West #1 seed. Kaiser is seeded #1 from the OIA East. Kaiser will play the winner of tonight's match between W2 Radford vs. E3 Castle tomorrow night at Kaiser following the Pearl City vs. E3 McKinley/W3 Waialua winner.
Thursday's semifinal winners will play for the OIA Division II Championship on Thursday, April 30, 5:30pm at Radford High High School.
GO CHARGERS!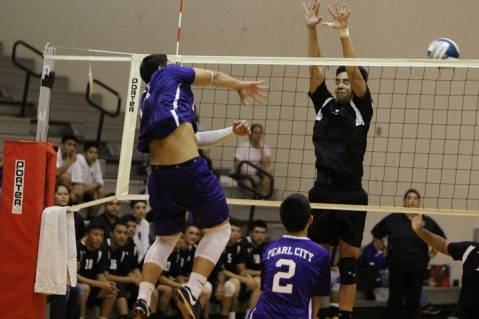 Photo by Barry Villamil | [email protected]