The Pearl City Chargers Boys and Girls Judo teams are set for this Saturday's Oahu Interscholastic Association Judo Team Championships at Moanalua High School after performing well this past Saturday in the OIA Individual Championships held at Leilehua High School.
In the boy's team competition, Maui Lee won the 178 lbs. title for the Chargers while Mana Borden captured first place in the 172 lbs. weight class for the Lady Chargers.
The Lady Chargers are the 5X defending OIA Girls Judo Team Champions and are looking for a 6th OIA team championship title in a row. The Lady Chargers have also won three state team championships in a row.
On Saturday, Kapolei dominated the boy's competition winning five individual championship titles.
GO CHARGERS!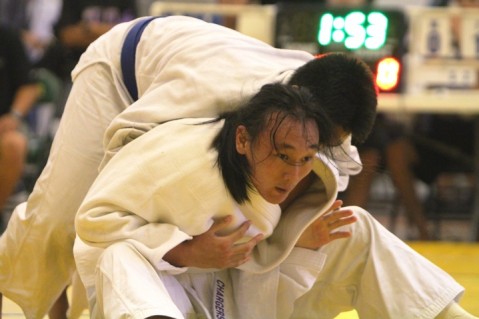 Photo by Barry Villamil | barry@mypearlcity.com
Maui Lee captured the 178 Lbs. OIA Boys Individual Judo championship

title for the Chargers. Lee is pictured here in his semifinal win.
CHARGERS INDIVIDUAL FINISHERS:
BOYS
114 Lbs
8th Cambey Quijano

132 Lbs.
7th Diamond Edwards
145 Lbs
7th Christian Edwards
161 Lbs.
5th Blayze Remata
178 Lbs
1st Maui Lee
198 Lbs
2nd Matthew Keopuhiwa
4th Elijah Terrell
220 Lbs
2nd Jackson Fuamatu
285 Lbs
4th Kaniala Kaohe
GIRLS
103 Lbs
2nd Louise Pekelo
109 Lbs.
2nd Mikayla Abe
115 Lbs.
5th Joen Tominaga
122 Lbs.
5th Shana Inouye
129 Lbs
5th Grace Boa
139 Lbs.
2nd Kayelah Arakaki
4th Sarah Kaaiakamanu
154 Lbs
4th Kim Mendez
8th Nina Seoane
172 Lbs
1st Mana Borden
3rd Jaqueline Fuamatu
220 Lbs
4th Michelle Tanuvasa
5th Jennie Fuamatu