The Pearl City Charger Boys placed 4th while the Girls finished in a tie for 4th place with Punahou in the team competition at the HHSAA Hawaii State Judo Championships held on Saturday at Stan Sheriff Center.
Kapolei won the boys team championship. Roosevelt captured the girls team championship.
Chargers Individual Championship Title Matches:
Jackson Fuamatu defeated Kahuku's Lerod Tongi (Yuko) to win the 220 Lbs. individual championship title.
Matthew Keopuhiwa placed second in the 198 Lbs weight class.
Mana Borden placed second in the 172 Lbs. weight class for the Lady Chargers.
Top Chargers Finishers:
Boys
Maui Lee 3rd, 178 Lbs
Matthew Keopuhiwa 2nd, 198 Lbs.
Jackson Fuamatu 1st, 220 Lbs.
Girls
Louise Pekelo 4th, 103 Lbs.
Mikayla Abe 3rd, (Shido) 109 Lbs.
Kayelah Arakaki 3rd (Ippon) 139 Lbs.
Sarah Kaaiakamanu 4th, 139 Lbs.
Mana Borden 2nd, 172 Lbs.
Jennie Fuamatu 5th, 220 Lbs.
Michelle Tanuvasa 6th, 220 Lbs.
CONGRATULATIONS CHARGERS!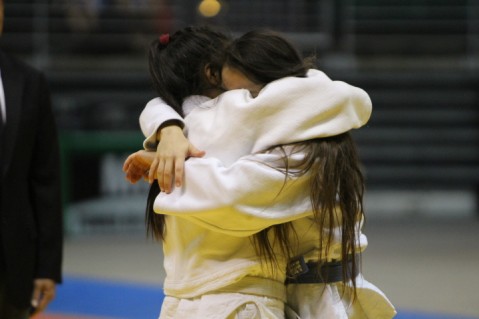 Photo by Barry Villamil | barry@mypearlcity.com
Pride, Friendship, Respect
Lady Chargers teammates Sarah Kaaiakamanu (left) and Kayelah Arakaki (right) embrace

one another after finishing their match for third place in the 139 Lbs. weight class.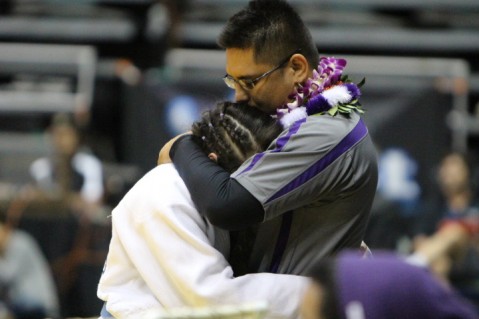 Photo by Barry Villamil | barry@mypearlcity.com
Mutual Respect & Admiration
The success of the Pearl City Chargers Judo team is the bond between each team member
and their coaches who guide them on their journey in battle and as student athletes at PCHS.