Momilani Elementary and the Hui O Momilani PTSO held their annual Family Fun Night on Friday, May 15 at the Pearl City High School Cafeteria.
The event featured a hula performance by Kupuna Pang, Brown Bags to Stardom Winners, Celebrate the Arts Winners, Ryusei Taiko led by Sensei Andrea Iwamoto, Asia Lion Dance, Silent Auction, and lots of food, drinks and games!
The Family Fun Night got a special treat with the appearance and ono grinds from Lanai Tabura and his crew from Aloha Plate, winner of Food Network's "The Great Food Truck Race". Aloha Plate served up delicious, award winning plate lunches to the hungry, and appreciative crowd.
Congratulations to Principal Mrs. Doreen Higa, and Counselor Mr. Lance Nishihara who celebrated 25 years of service at Momilani Elementary School.
Mahalo to Tracie Romualdo, Hui O Momilani PTSO President, and Family Fun Night Committee Chairperson Kristy Kono and Co-chair Sandra Miyama for a great job in organizing a great night of fun for the Momilani Elementary ohana and Pearl City community.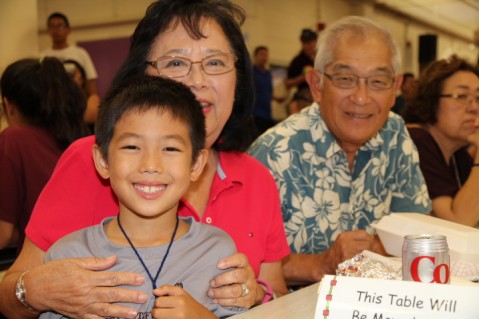 Photo by Barry Villamil | barry@mypearlcity.com
Fun for the whole family! Grandma and Grandpa too!