The Ka'oi Soccer Club is inviting soccer players to open tryouts. The club is actively seeking boys and girls (birth years 08, 07, 06, 05, 01, 02, 00, 99, 98), teams and coaches who live in Pearl City or in the vicinity.
The club has developed players to play with confidence and win with character since 1992. Last year's tryouts were at Waiau District Park.
This year's club tryouts are Friday, June 5 from 5-7pm at the Patsy Mink Central Oahu Regional Park (field #2). Bring soccer gear, and ID and ball.
For more information contact Coach Monty 864-2791 or visit www.KaoiSoccerClub.org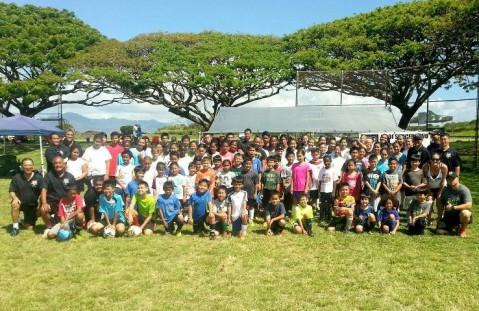 Photo courtesy of Susan Takamune, Ka'oi Soccer Club Secretary
Last year's Ka'oi Soccer Club tryouts were held at Waiau District Park in Pearl City.