Kids to learn ten fun projects in five days…
Back by popular demand, HouseMart Ben Franklin Crafts will hold its Summer Keiki Crafts Classes from Monday, June 15 through Friday, June 19 at all of its stores. Classes for children eight to 10 years old is from 10 a.m. to noon and classes for ages 11 and older will be from 1 to
3 p.m. All the supplies are included and the cost is $60 for all five days or $20 per day.
Students will learn about different mediums and basic techniques while developing their crafting skills.
Project schedule is as follows:
• Monday, June 15 – Origami Crown, Mixed Media Canvas
• Tuesday, June 16 – Polymer Clay Robot, Lighthouse
• Wednesday, June 17 – Faux Batik with Cray-­‐Pas, Petite Piñata
• Thursday, June 18 – Zentangle Collage, Shell Wind Chime
• Friday, June 19 – Pony Bead Gecko, Watercolor Painting & Techniques
Seats are limited so it is recommended to register early. Visit www.benfranklinhawaii.com for class brochure and registration form. Register at any HouseMart Ben Franklin Crafts store.
About HouseMart Ben Franklin Crafts
Family-­‐owned and operated HouseMart is the parent brand of six Ben Franklin Crafts stores in Hawai`i, locations in Māpunapuna, Market City, Pearl City and Enchanted Lake on O`ahu, Kahului on Maui and Hilo on Hawai`i Island. HouseMart Ben Franklin Crafts encourages art and creativity in any medium and carries a vast selection of arts and crafts products. For information on sales, events, demonstrations and workshops, visit www.benfranklinhawaii.com and www.facebook.com/bfcrafts or call (808) 838‐7773.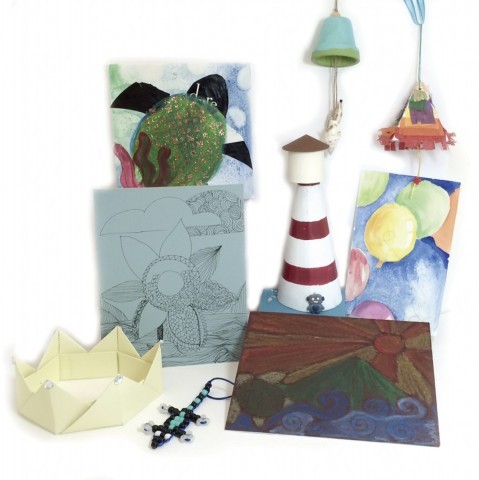 Children who participate in the Summer Keiki Craft Classes at HouseMart Ben Franklin Crafts
will create these ten art projects while they learn techniques, skills and about different mediums.
Classes will be held from June 15-­‐19 and is open to children eight years old or older. To register,
visit any HouseMart Ben Franklin Crafts store.