Manana Elementary captured their second in a row Pearl City Complex Track Meet Championship on Friday, May 29, 2015 before a packed house at Pearl City High School's Edwin "Bino" Neves Stadium.
Boys and Girls track teams from eight Pearl City Complex Schools competed in the championships:
Kanoelani Elementary, Lehua Elementary, Manana Elementary, Momilani Elementary, Palisades Elementary, Pearl City Elementary, Pearl City Highlands Elementary, and Waiau Elementary.
The Pearl City High School Track Team and Coaches hosted the annual track meet.
CONGRATULATIONS to our MANANA TRACK TEAM… "BACK 2 BACK" CHAMPS!!
THANK YOU to our students, teachers (coaches), and our PHNSY partners for giving months of their time (and sweat) to make this amazing feat happen…. TWO YEARS IN A ROW!!
MAHALO to Mr. Tominaga, PCHS Principal, Mr. Shigemasa, Athletic Director, The PCHS Track Team Coaches and Track Team, and Ms. Imamoto, PCHS Athletic Health Care Trainer.
…..Manana Elementary School Principal, Mr. Bryan Loo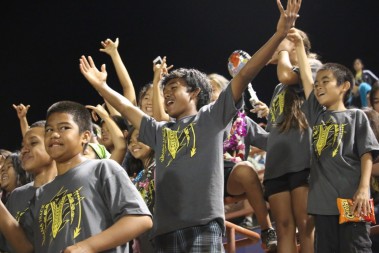 Photo Courtesy of Michelle Kim
CONGRATULATIONS TO ALL THE STUDENT ATHLETES WHO GAVE IT THEIR ALL WHILE REPRESENTING THEIR SCHOOLS!



Pearl City Complex Elementary Meet – 5/8/2015
Pearl City High School
Team Rankings – Through Event 40
Combined Team Scores
Place School Points
1 Manana 379
2 Momilani 337
3 Palisades 303
4 Pearl City Highlands 182
5 Kanoelani 154
6 Waiau 151
7 Pearl City 143
8 Lehua 85
Total 1,734.00
Female Team Scores
Place School Points
1 Manana 188
2 Momilani 168
3 Pearl City Highlands 102
4 Palisades 91
5 Waiau 76
6 Pearl City 50
7 Lehua 38
8 Kanoelani 29
Total 742.00
Male Team Scores
Place School Points
1 Palisades 144
2 Manana 139
3 Momilani 125
4 Kanoelani 95
5 Pearl City Highlands 78
6 Pearl City 71
7 Waiau 51
8 Lehua 41
Total 744.00
RECORD BREAKERS:
6th girls 50
Kirsten Kasal (Manana) 8.07
6th boys 100
Harun Cardona (Manana) 13.71
6th girls long jump
Kayli Frost (Manana) 12-6
6th boys long jump
Landon Chang (Pearl City Highlands) 15-3.50
6th boys softball throw
Kade Yasui (Momilani) 169-09
6th mixed 4×100
Manana 57.14
5th boys 4×100
Palisades 1:00.64
6th girls 4×100
Manana 1:00.31
6th boys 4×100
Manana 56.15
5th mixed 4×200
Palisades 2:11.00
6th girls 4×200
Manana 2:10.16
6th girls 800 sprint medley
Manana 2:16.43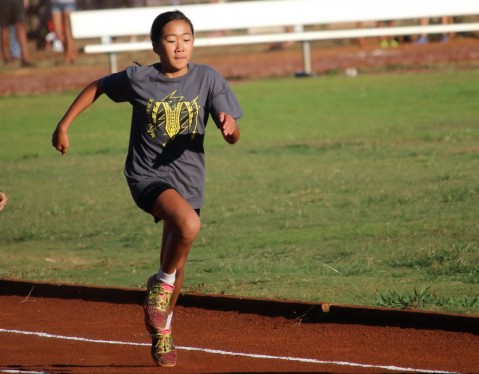 Photo Courtesy of Michelle Kim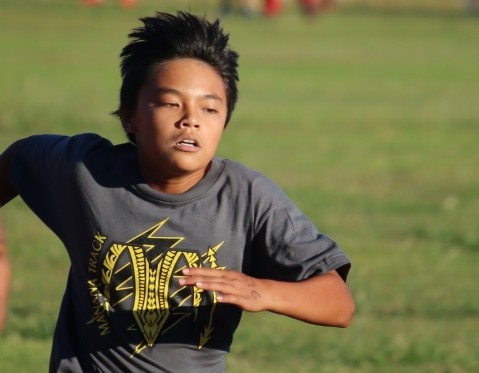 Photo Courtesy of Michelle Kim
Photo Courtesy of Michelle Kim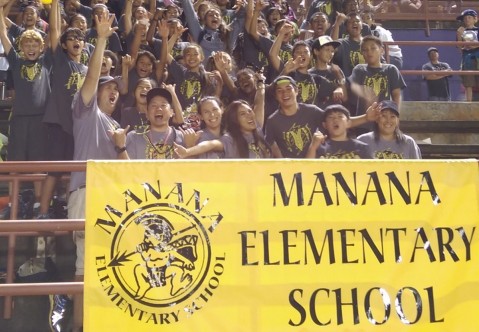 Photo Courtesy of Michelle Kim