After taking in a couple Hawaii's Finest (HF3) Flag Football League games played at Manana Community Park in Pearl City on Saturday, thoughts of getting out on the football field to play again occupied my thoughts as I drove along on the H-1 towards my next event to cover for MyPearlCity.com.
I can do that, I told myself. Once I make the turn around the corner I'm GONE! Maybe right don't the middle on a post route, SEE YA! So, later in the day I put on my 15 year old, spider webbed running shoes and went to the park to run routes. I started with a 10 yard slant and I felt great. I followed it with a 20 yard curl. It was time for the BOMB! From end zone to end zone. Right down the middle of the field. I took off, got to the thirty yard line and all hell broke loose. My right hamstring had other ideas. I performed what looked like a triple jump attempt, but in reality it was a 56 year old, out of shape, grandpa who was now in need of medical attention. You see, I also landed on my shoulder that I had rotator cuff surgery on a few years ago, and it was also time to take my afternoon insulin shot. I lay there, a torn and broken man. There will be no flag football for me, not now, or ever. I'm done I told myself. I thought of calling my wife for help and tell her a bunch of soccer players ran me over, and just left me here. To die! (only kidding).
Okay, getting back to the Hawaii's Finest (HF3) Flag Football League. I watched the War Dawgz vs. Wahine Koa (women) and Solid Rock vs. Hawaiianz (men) games. They were awesome! They played their hearts out. Both games were loaded with talent. They even had official referees, coaches, and fans! It was a lot of fun.
Mahalo Hawaii's Finest!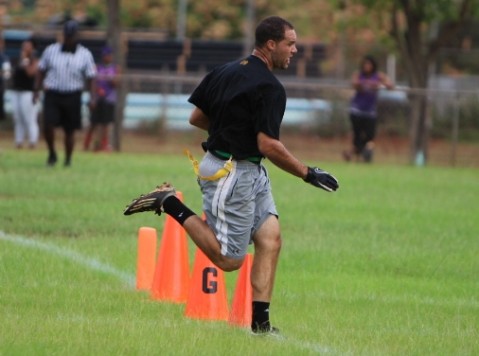 Photo by Barry Villamil | barry@mypearlcity.com
SOLID ROCK TOUCHDOWN!