Submitted by the Cooke Foundation:
Cooke Foundation now accepting entries for three $5,000 awards
The Cooke Foundation announced today a call for nominations for the Cooke Beautification Award, which recognizes public schools for completing significant beautification projects on campus. The biennial award has honored elementary, middle and high schools across the state with $85,000 in awards since 2008, for contributing to the overall appearance and ambiance of their campuses through murals, landscaping, gardens, mosaics and other enhancement projects.
"We urge all public schools in Hawaii to submit projects completed over the past year for consideration, no matter the size or scale," said Gregory Wrenn, trustee of the Cooke Foundation and chairman of the Beautification Award program. "Through this award, we hope to provide a mechanism for students, faculty, families and others to continue improving their school community, which includes creating beautiful campuses for our keiki to learn, play and grow."
The previous year's award recipients include Aikahi Elementary School in Kailua, Oahu, which designed and built a beautiful playground for keiki, decorated with a colorful handmade mosaic; and Lokelani Intermediate School in Kihei, Maui, which worked with the Grow Some Good program to plant native plants and terrace landscaping, adding vibrancy to the campus. Both schools received a $5,000 award and a plaque to celebrate their achievements.
"Lokelani Intermediate has expanded its beautification project to include the Grow Some Good program to help students appreciate the aesthetics of nature, and how it sustains life by providing food and nutrition for growing, healthy bodies." said Donna Whitford, principal of Lokelani Intermediate School. "The recognition from the Cooke Foundation has encouraged students at Lokelani to continue to malama aina, to care for our land and to malama pono, to do what is right."
All public schools in the state, including charter schools, are eligible to nominate completed beautification projects that demonstrate significant improvement of the property through September 1. One elementary school, one middle school and one high school will be selected to receive a $5,000 award. Details and submission information are posted at www.cookefdn.org.
About Cooke Foundation
Established in 1920, the Cooke Foundation, Limited supports worthy endeavors in the community that the family feels will make a significant difference in the betterment and welfare of the people of Hawai'i. Hawai'i Community Foundation is the Cooke Foundation's grants administrator.
About the Hawai'i Community Foundation
With 99 years of community service, the Hawai'i Community Foundation (HCF) is the leading philanthropic institution in the state. HCF is a steward of more than 700 funds, including more than 200 scholarship funds, created by donors who desire to transform lives and improve communities. In 2014, HCF distributed more than $46 million in grants and contracts statewide, including over $4.5 million in scholarships. HCF also serves as a resource on community issues and trends in the nonprofit sector. For more information, visit www.hawaiicommunityfoundation.org.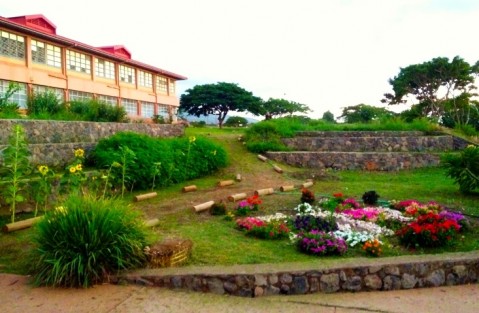 Photo courtesy of the Cooke Foundation
Lokelani Intermediate School in Kihei, Maui.