MyPearlCity.com would like to recognize Manana Elementary School's 2014-2015 Oahu Elementary Science Olympiad Champions. As the new 2015-2016 school year approaches, the award winning accomplishments of our Pearl City District Complex S.T.E.M. students from last school year is an outstanding achievement that promises to be even more exciting and rewarding this school year.
Today's PC I.N.K. – Incredible Neighborhood Kids recognition features Manana Elementary School's team of fifth and sixth graders who won the 2014-2015 Oahu Science Olympiad Championship in April, 2015 at Mililani High School. Fifteen students from Manana Elementary competed against schools from across Oahu.
Participating schools included:
Waipahu Elementary, Kaleiopuu Elementary, Hanalani Schools, Enchanted Lakes Elementary – 2 teams,
Homeschoolers of Schofield, UH Lab School, Manana Elementary, August Ahrens Elementary – 2 teams
Manana Elementary improved from a second place finish in 2014 to first place in 2015. Manana Science Olympiad coach Lynn Okamura attributes the team's success this year to the added coaching help and expertise from parent volunteers Bonnie Tokita and Michele Kim who joined the coaching staff of Okamura and Ronalyn Velligas.
Lynn Okamura, Coach, Manana Science Olympiad Team
"We chose fifteen children in grades five and six. They competed against a total of 10 other schools. Out of the ten we came out first. This is the second year that they have held the Science Olympiad competition for elementary schools. We finished second last year.
The difference between last year it was only Ronalyn (Velligas) and I, and this year we brought on more coaches. They were the main coaches. They came up with different activities and it really helped having more people involved. They came up with other ways to practice and brought in a lot more supplies"
Michele Kim, Parent Volunteer, Coach, Manana Science Olympiad Team
"I just popped in and out last year, but my daughter (Noelle) really wanted to be a part of it, to get more involved. My daughter is more into the science and studied more. Like on her free time, instead of playing games or watching TV, she was more into reading the books, going online, and researching."
Mr. Bryan Loo, Principal, Manana Elementary School

"I am so proud of our students who have participated in the Elementary Science Olympiad (Oahu Tournament) these past two years. In the inaugural year, we came in 2nd place. This past year, we took 1st place! All of our students give their best efforts, demonstrate a positive attitude, great sportsmanship and behavior.
I am very thankful that our faculty and staff members are willing to give countless hours of their time after school to work with all of the students on the team. Our parents of the team members have been very involved and supportive as well. That is wonderful to see.
This event, along with our PTO's Science Technology Engineering and Math (STEM) family events has sparked a new interest in STEM at Manana."
Pride and Success!
From our complex elementary schools, and partnerships with Highlands Intermediate School and Pearl City High School, success in both Science and Robotics competition (statewide and nationally) brought well deserved recognition and a unified level of excellence to the students, coaches, teams, schools and state of Hawaii.
Congratulations Manana Elementary School
2014-2015 Oahu Elementary Science Olympiad Champions!
You are truly PC I.N.K. – Incredible Neighborhood Kids!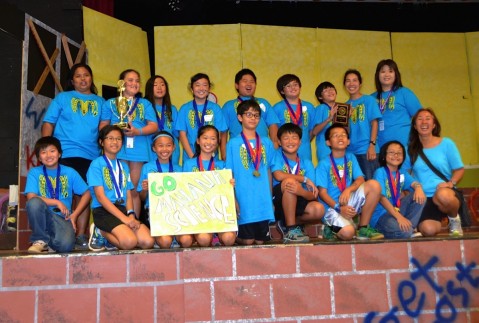 Photo courtesy of Manana Elementary School
Bottom row (L to R): Randy Kubo, Tristyn Terashima, Rylie Goo, Ailee Watanabe, Franklin Lincoln,
Cole Leong, Michael Lee, Isaac Tamashiro, Michelle Kim (Coach)
Top row (L to R): Ronalyn Velligas (Coach), Tiara Leslie, Noelle Kim, Remy Kubota, Xander Yung-Edra,
Merrick Gionson, Andy Tokita, Bonnie Tokita (Coach), Lynn Okamura (Coach)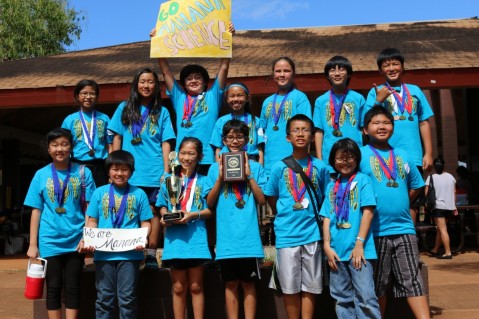 Photo courtesy of Manana Elementary School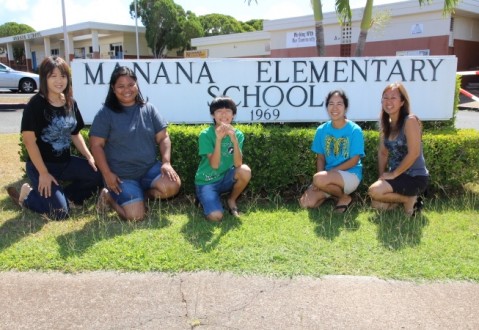 Photo by Barry Villamil | barry@mypearlcity.com
(Pictured from L-R) Lynn Okamura (Coach), Ronalyn Velligas (Coach), Andy Tokita, Oahu Elementary

Science Olympiad Championship team member, Bonnie Tokita (Coach), and Michelle Kim (Coach)