The Moanalua Menehune traveled to Pearl City to take on the Chargers on Saturday in an Oahu Interscholastic Association controlled football scrimmage played at Edwin "Bino" Neves Stadium.
Both the junior varsity and varsity squads went head to head. It was the second OIA Division I team that the Chargers have faced in consecutive weeks.
The Chargers have one more controlled scrimmage scheduled for next week Saturday, August 8 at Waipahu before starting their OIA Western Division II regular season schedule on Friday, August 14 at Roosevelt.
GO CHARGERS!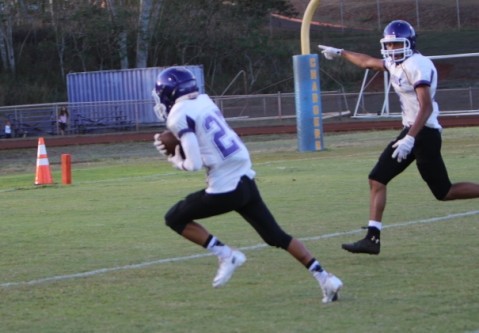 Photo by Barry Villamil | barry@mypearlcity.com
Pearl City wide receiver Patrick Nunez scores on a TD toss from QB Kekainalu Simon.