Reported by Andrew Iwane:
Saturday, August 8, 2015
Pearl City (4-0) defeated Sparks, Nevada (1-2) 4-2 on Saturday to advance to the 2015 Little League Juniors Western Regional Semi-Finals. With the victory, Pearl City secured the #1 Seed for Pool 2 in the tournament semi-finals and will face the runner-up of Pool 1 on Tuesday, August 11th.
Carter Hirano started on the mound for Pearl City today and was relieved by Trey Maldonado. Chaesten Chon closed the game to secure the victory for Pearl City. Nevada's starting pitcher Connor Culp pitched a great game and held Pearl City to only 4 runs in 7 innings of play. Pearl City's pitching and defense again held strong allowing Nevada to only 2 runs on 7 hits.
Pearl City completed its pool play today and will now wait to see which teams from each pool advance to the semi-final games on Tuesday.
First pitch for Pearl City, Hawaii's Western Regional semi-final game will be on Tuesday, August 11th @ 10:30am Hawaii time.
For live streaming/game changer of all Western Regional games, visit: http://juniorregionals.com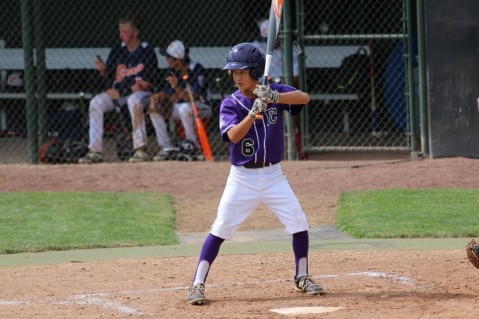 Photo courtesy of Andrew Iwane
Shawn Iwane pictured at the plate for Pearl City.