The Pearl City community lost a dedicated and valuable community volunteer last week Monday, August 24.. Onorio "Nory" Balantac was a long time member of the Pearl City Lions Club and volunteered countless hours on projects that supported and made a huge difference in our community and other communities throughout Oahu.
In September of 2013, Nory was recognized by the Honolulu City Council with an Honorary Certificate for his years of volunteer work in our Pearl City comunity.
Funeral services for Nory have not been announced.
God Bless you Nory, we will miss you!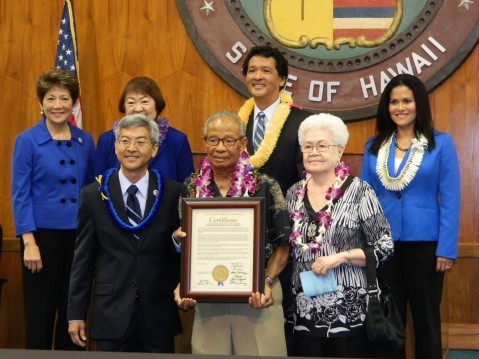 Photo courtesy of Paul Kudo
Mr. Balantac (center) is pictured with his wife Mrs. Juanita Balantac (right) and Council member Breene
Harimoto (left) along with Honolulu City Council members (L-R, back row) Carol Fukunaga, Ann Kobayashi,
Ron Menor,and Kymberly Marcos Pine at Honolulu Hale in Honolulu on Wednesday, September 11, 2013.