MYPC recently sat down with Bryan Camello, Head Coach, Pearl City Lady Chargers Varsity Volleyball, to discuss the 2015 Lady Chargers volleyball program and season. Coach Camello, who is in his third year at the helm of the Lady Chargers volleyball program is the guiding force for his players and coaches as they make the transition from competing at the OIA Division I level to OIA Division 2.
Coach Camello and his Lady Chargers will still go head to head during the regular season against a pretty potent schedule of D1 schools beginning with this week's matches against OIA West D1 powerhouse Mililani on Tuesday followed by a strong Campbell Lady Sabers squad on Thursday. Both matches will be played at home. OC Sports will televise Thursday's match against Campbell "live" starting with the junior varsity match and varsity to follow. The Lady Chargers (1-0) defeated Waialua (0-1) 2-0 in straight sets on Tuesday, September 1 at home to open the D2 regular season.
The following MYPC Q&A with Coach Camello was conducted on Labor Day, Monday, September 7 before the Lady Chargers hit the court for a practice session.
Q: How have you and your Lady Chargers varsity volleyball program adjusted to the move from D1 to D2 after last year's 3-9 record?
A: I'm disappointed that we are in the Division 2. We always want to be competing with the best teams out there, but that's the consequence of I guess last year's actions. The make-up of the team, I think, is one year wiser, one year older, one more year mature.
Q: How are the varsity players coming along and buying in to your strategy to once again become a winning program?
A: We've been working really hard in the gym. They've been a lot more open to some of the strategies that we're trying to do and trying to implement and changing the culture here at Pearl City. We want to be one of the best programs in the state, so it comes with changing of the mind, changing of the culture and the attitudes overall of the team, of the entire program I should say.
Q: Your strategy to field the Lady Chargers varsity team with six seniors and eight juniors?
A: There were a few sophomores that were close to making the squad, but I really don't want to bring up an underclassmen, freshman or sophomore if they're not going to have a lot of playing time. I also think the transition from eighth grade to ninth grade is a big transition, not just a physical transition, but also a mental transition of what we expect up here at the high school level. To a lot of the players, a lot of the kids nowadays it's difficult. To have a freshman coming in right off the bat is going to be unusual. That person has to have the ability to get on the court. If not, I don't mind letting them stay at the JV level to learn some of the other things, the leadership skills and the other part of the game, not just the physical part of the game. I don't think it's a bad thing, I also think the JV team has a good mix of kids that we will be depending on in the near future.
Q: How do you feel the varsity performed in last week's season opening straight set win over Waialua?
A: We did okay. In the first set we did what we planned out to do. In the second set we lost our mental part. A lot of errors, we gave up service errors and we also committed a bunch of errors. If it wasn't for that it would have been two sets just the way we planned it. Like any first game of the season we expected to have some road blocks or some bumps in the road.
Q: Top D2 competition the Lady Chargers will face this season?
A: Our stiffest competition right now, Radford is still there. They are a proven and solid program on the Westside. Kailua did a really good job on the Eastside last year. Kalaheo moved up. The competition is not as strong as the Division I as expected, but there are still teams out there that will push us really hard. We still cannot take anybody lightly.
Q: Goals for 2015?
A: We want to create a more exciting brand of volleyball. We want to be competitive at the state tournament level. Being competitive at the OIA level is one thing, but we want to be competitive throughout the entire state. If you look at teams like Kamehameha and Punahou who are proven top teams in the state, they run a very diverse offense, a very explosive offense, and that's where we're trying to get to as well. First of all, my one goal is to win our division, our league. Second one is to be competitive amongst the state. Looking at what they do, why shouldn't we imitate what's been successful for them also.
Q: Leadership from your varsity team captains and their roles and responsibilities?
A: We have three captains, Emma Mersberg, Maycee Kealoha and Lexxus Enos. They are returnees and they stepped up this summer and took up a lot of the leadership roles and assumed it. Also, what comes along with leadership is a lot of responsibility and they showed that they wanted it. What comes along with the captains is a lot of responsibility and demands from myself.
Q: Anyone that you would like to thank for their efforts and dedication towards building a winning and successful Lady Chargers volleyball program?
A: I want to thank the coaches who do a really good job and the commitment of their time and effort and energy. Picking up a lot of stuff that I don't like to do or sharing the burden of running a program is very helpful. We have two student managers from the boy's team Toby and Jordan and they help me a lot in practice. They help me run drills and help manage the court. Overall, everybody that comes in, even the volunteers and alumni makes the entire program as strong as it is. They are stepping stones to where we want the program to go. We are starting to build that foundation and if everybody starts to buy into it big things are going to come to Pearl City volleyball.
Q: Would you like to make a shout out to Lady Chargers fans and supporters?
A: Come out and support us. That would be great! Come out and support us and cheer on the girls. That would be great for the community. We want to 5000 fans in the stands and the gym ROCKIN!
GO LADY CHARGERS!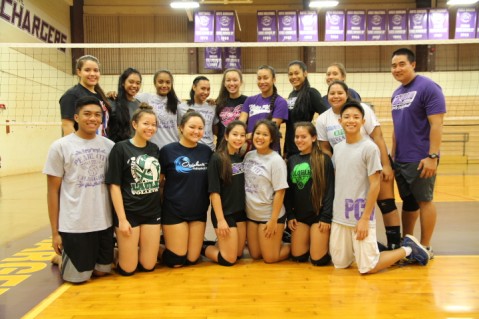 Photo by Barry Villamil | [email protected]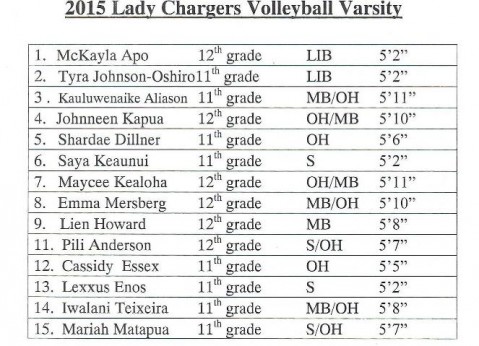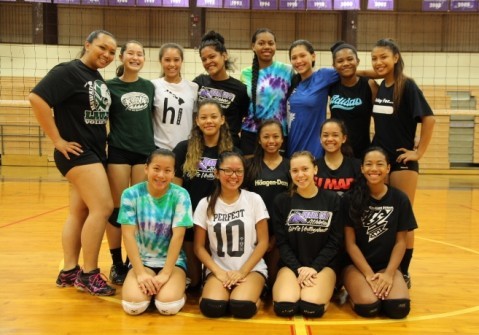 Photo by Barry Villamil | [email protected]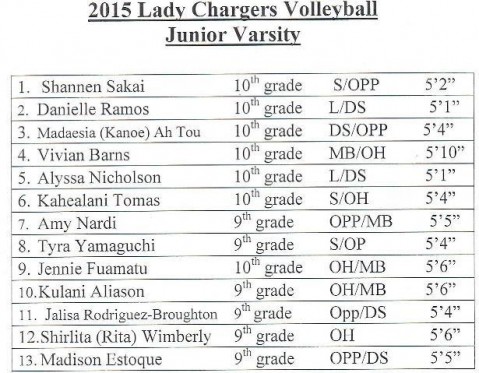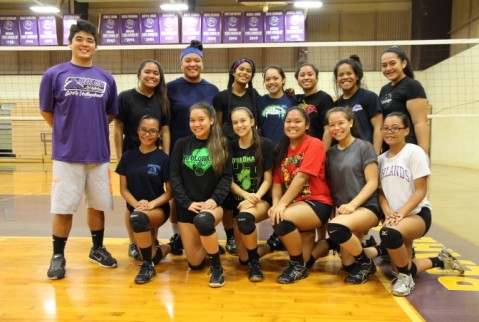 Photo by Barry Villamil | [email protected]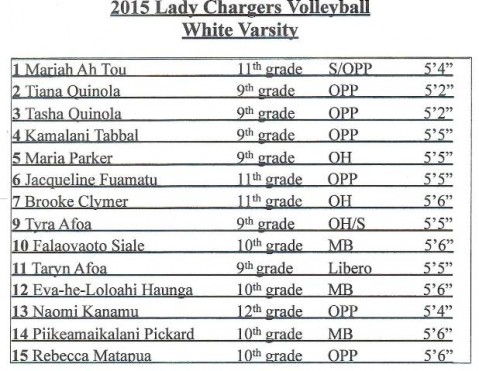 ROSTER CHANGES:
Junior Varsity – #14 Appleanne Duma and #15 Kamalani Tabbal moved from White Varsity
White Varsity – Kylee Fernandes was added to the roster