Funds support educational theatre programs for West Oʻahu communities
Submitted by Hawaiian Electric, September 8, 2015
A $15,000 grant from Hawaiian Electric to Honolulu Theatre for Youth (HTY) will support educational theatre programming for the children and families in West Oʻahu communities during HTY's 2015-16 season.
Beginning with the first show of the season, ANIME ALICE & HER ADVENTURES IN WONDERLAND, the grant will cover bus transportation costs and discounted admission for Leeward area school children and their teachers to attend a combined total of 32 performances. The students will travel with their classes to HTY at Tenney Theatre, St. Andrew's Cathedral, to attend age-appropriate performances throughout the season.
Hawaiian Electric's grant also underwrites community performances of HTY's preschool show, THE TINY TREE, set to debut in January 2016. HTY will take THE TINY TREE on tour to preschools in Pearl City and Waianae, and also will present free public performances at the state libraries in Pearl City and Waianae.
"Arts-based learning experiences are another facet of our commitment to educational excellence for Hawaiʻi school children," said Darcy Endo-Omoto, Hawaiian Electric vice president – government & community affairs, and HTY Board Member. "Our partnership with HTY will help bring enriching arts and culture theatrical performances to a wider audience regardless of geographic, social, cultural or economic backgrounds."
Becky Dunning, managing director of HTY, said, "We are thrilled to be able to bring our 61st season to West Oʻahu children and families. Thanks to this valuable support from Hawaiian Electric, more than 8000 children and families will be able to enjoy our award-winning professional theatre performances both in their own communities and at the historic Tenney Theatre downtown—theatre that will enrich their lives, enhance their studies and bring our communities closer together."
Honolulu Theatre for Youth is Hawaii's non-profit professional theatre company providing theatre and drama education programs that make a difference in the lives of Hawaii's young people and families. Founded in 1955, HTY is recognized the world over as one of America's most honored theatres.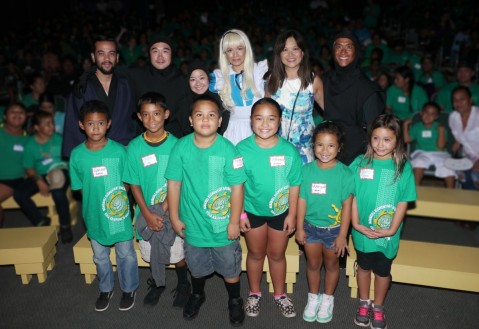 Photo credit: Harry Alama/Hawaiian Electric
The cast of HTY's Anime Alice & Her Adventures in Wonderland with Darcy Endo-Omoto (back row,

second from right) of Hawaiian Electric and students from Nanakuli Elementary School. A grant

from Hawaiian Electric to HTY will fund educational theatre programs for West Oʻahu communities.