The offices and their duties are (FoPCL bylaws Article VI, sections 2 and 5):
Vice President: It shall be the duty of the Vice President to assist the President as needed, to preside in the absence of the President, and to succeed the President in the event of resignation or incapacity. The duties shall include coordination of all committee activities.
Director: It shall be the duty of a Director in conjunction with other officers to formulate annual goals and objectives, establish policies, and approve annual budget, all disbursements, and fund-raising activities.
Other duties for officers and volunteers include donations acceptance and sorting, book sales, publicity, programs, and hospitality.
Interested persons should submit an application to the Friends' Bookshelf cashbox by October 31, 2015. Applications may be picked up at the library.
Applicant information may also be submitted to [email protected]. Please provide name, phone number, e-mail address, educational/professional background, the position applying for, any skills that can be of benefit to FoPCL, and a brief answer to the question: What makes you a good candidate for The Friends of Pearl City Library?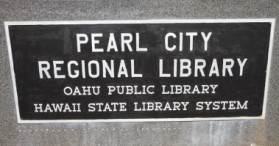 MyPearlCity.com File Photo | [email protected]