Straub Clinic and Hospital's Bone and Joint physicians have joined Pearl City athletics this year as a member of the team to help provide quality care to our student athletes. Straub Bone and Joint physicians volunteer their time at various high schools across the island by providing their expertise and care free of charge.
"Volunteering our time to help Hawaii's student athletes is just a small token that we felt we could give back to our community," states Straub Bone and Joint Manager, Dara Shelton. Shelton comments by stating… "We saw that our local public schools were in need of team physicians and that's when we decided and committed ourselves to reach out and make ourselves available to any athletic program that may need our services."
"It's an honor to be here at Pearl City High School," said Straub Clinic and Hospital's Bone and Joint team member, Sport Medicine physician Dr. Clayton Everline. "I always want to take care of kids, help them achieve perfect and at least optimal health and perform at their peak. I appreciate the opportunity to be here. I always appreciate the opportunity to work with Straub alongside some of the best sports medicine doctors on this island, if not the whole Pacific. Pearl City athletic trainer Kim Imamoto has been very gracious and welcoming. It's been a real privilege to come in and see a top-of-the-line training room and a dedicated athletic training staff. We do a training room visit every Monday and only those that really need further intervention or diagnostic care I'll bring in to our offices at Straub and give them the care that we give everybody. At Straub our services are comprehensive. We have great primary care doctors, great specialists, great radiological services and physical therapy. It's an honor to be working with a top niche sport medicine group."
"I've been here 10-11 years now and we've always wanted to have a team doctor to help us and this is a great opportunity for us and for the kids," commented PCHS Trainer, Kim Imamoto. "It's great to have Dr. Everline here and having that second opinion, for me, from a doctor. Some of these kids don't even have insurance, so he'll look at them here and if they do have to go into the clinic, and doctor feels it's necessary, then they'll go in. It's just a great opportunity for the kids because they can come here instead of their parents taking them to the doctor."
"Having a doctor on the sideline is big for us because it gets pretty hectic for one trainer. said Pearl City Chargers Head Coach, Robin Kami. "Right now we have only one, so Dr. Everline does a great job of covering the games, especially with the situation that I had with my son. He had a neck and spine injury against Radford and doctor was there to at least help my boy out and make sure it was safe before anything else. I feel comfortable that somebody is watching over us along with our trainer. On Monday's, doctor comes up to our training room to take care of the little things so our kids don't have to go to the doctor."
This year, you can catch the Straub Bone and Joint team in action taking care of athletes on the sideline of all University of Hawaii Football games, Professional surfing contests held out on the North Shore, and the Olympic Skiing Team just to name a few. Mahalo Straub for your kokua and welcome to Pearl City High School.
The Straub Bone and Joint Center is made up of 15 Orthopedic Surgeons, Sports Medicine Physicians and Rheumatologist who treat patients at their main location on King Street and various Straub satellite clinics in Pearlridge, Mililani, Kailua, and Hawaii Kai. Look for Dr. Clayton Everline every Monday afternoon in the training room and on the sideline.
Photo by Barry Villamil | [email protected]
Straub Clinic and Hospital's Bone and Joint team member, Sport Medicine
physician Dr. Clayton Everline was out on the field assisting PCHS Athletic
Trainer Kim Imamoto with man injured player during the Pearl City vs. Radford
junior varsity home game on Friday, September 18, 2015.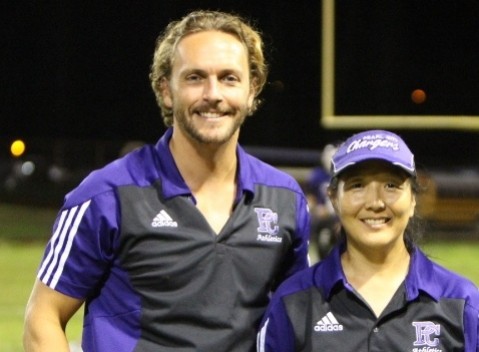 Photo by Barry Villamil | [email protected]
TEAMWORK!
Dr. Everline and Kim Imamoto are pictured on the Chargers
sideline at the Pearl City vs. Radford varsity home game.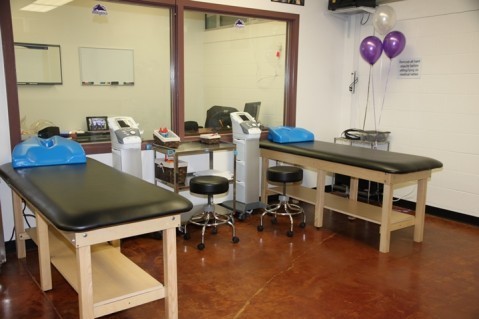 Photo by Barry Villamil | [email protected]
Dr. Everline and the team of Straub Clinic and Hospitals Bone & Joint physicians are truly
appreciated for volunteering their services, expertise, and time with the PCHS student
athletes who utilize Pearl City High School's state-of-the-art, Roy Ichinose Training Facility