I came across a group of homeless campers near Blaisdell Park last Saturday during the Pearl Harbor Bike Path Clean up. It was sad to see the bike trail and park cluttered with make shift shelters and the personal belongings of those who occupy the area. At the same time, I felt compassion for those left homeless for whatever reasons or circumstances that have forced them to live in those conditions.
I wrote a story a few weeks ago (http://tinyurl.com/o7ypc22) about the Kakaako homeless camp near the U.H. Medical School and Children's Discovery that left me with mixed emotions with regard to the demographic of the homeless living on the streets in Kakaako and the effects on the people and the neighborhood.
Our community is becoming an extension and a reminder of the Kakaako homeless situation as they are being swept from the streets.
It's been a huge task to offer support for the homeless with regard to food, basic necessities, and medical care. It's also been a challenge to keep the area a safe and clean environment for residents to enjoy the park and bike path.

With the safety of our community being one of many concerns, it would be nice to hear how our area elected officials are working together to offer answers, solutions, and a plan of action to remedy the crisis?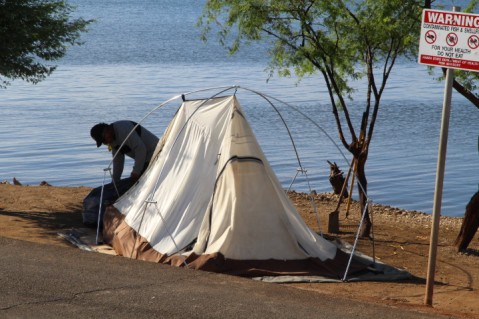 Photo by Barry Villamil | [email protected]
A homeless camper is pictured along the Pearl Harbor Bike Path on the
waterfront near Neil Blaisdell Park in Pearl City on Saturday, October 3, 2015.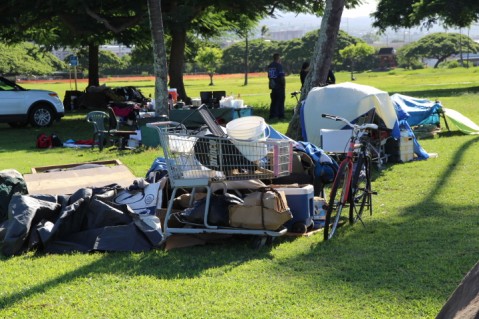 Photo by Barry Villamil | [email protected]
Everything but the kitchen sink sits on the grass at Neil Blaisdell Park in Pearl City.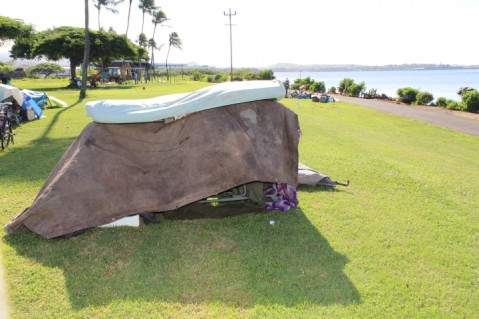 Photo by Barry Villamil | [email protected]
Some of the homeless campers seemed to possess personal belongings from

a time when they actually had a roof over their heads before their current

economic situation forced them and their families to the parks and streets.