The Pearl City Lady Chargers captured the 2015 HHSAA Civilian Marksmanship Program Girls Air Riflery Team Championship yesterday at Kamehameha Schools-Maui.
The Lady Chargers followed their 2015 Oahu Interscholastic Association Team Championship with Tuesday's state championship win.
Top Lady Chargers Team Championship Shooters
DANIELLE TANABE (198122)
JENNIFER LOUI (170499)
MADISON HATAISHI (212286)
KIARA-LIN WASANO (171574)
Lady Chargers Individual Results
8. Jennifer Loui
10. Danielle Tanabe
14. Kiara-Lin Wasano
15. Madison Hataishi
38. Kiara Eltagonde
46. Joley Nakamura
CONGRATULATIONS!
PEARL CITY LADY CHARGERS
2015 HHSAA Civilian Marksmanship Program Girls
Air Riflery Team Champions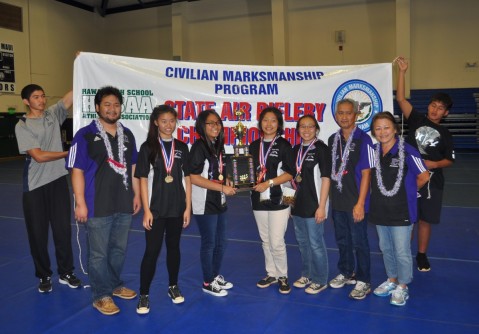 Photo courtesy of Lester Aranaydo
(Left to right) Coach Lelan Aranaydo, Madison Hatashi, Kiara-Lin Wasano,

Danielle Tanabe, Jennifer Loui, Coach Lester Aranaydo, Mrs. Shareen Aranaydo.
PEARL CITY CHARGER BOYS FINISH 4TH IN TEAM CHAMPIONSHIP COMPETITION
The Charger boys team placed in fourth place behind state team champion MPI, 2nd place Waiakea, and 3rd place Punahou.
Top Charger Boys Team Championship Shooters
ROBERT WILLIAMS (212190)
ZANE OGOSO (212043)
CHAYTON OTSUKA (193969)
ERIC SCHLITZKUS (211901)
Charger Boys Individual Results
9. Robert Williams
27. Eric Schlitzkus
29. Chayton Otsuka
32. Zane ogoso
37. Joshua Kobayashi
52. David Suzuki
CONGRATULATIONS!
PEARL CITY CHARGER BOYS
4TH PLACE TEAM FINISHER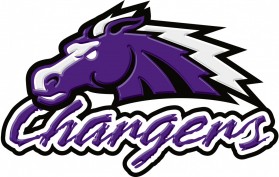 For complete results, log on to the HHSAA website at: http://www.sportshigh.com/sports/air_riflery/tournament/2015