Congratulations to the newly crowned Pearl City Chargers who captured both the Boys and Girls team championships as well as the Boys individual championship won by Kristopher Yadao on Friday at the 2015 HHSAA Billy Tees Bowling Team and Individual Championships at Kauai Bowl.
CHARGER BOYS 6X STATE CHAMPIONS LADY CHARGERS 5X STATE CHAMPIONS
The Pearl city Chargers bowling program led by boys head coach James Hayashi and girls head coach Millie Gomes, cemented another layer in the schools dominance and legacy building dynasty in high school competitive bowling as the Charger Boys won their 6th straight team title while the Lady Chargers brought home their 5th straight team championship title in a row.
Kristopher Yadao bowled an amazing final round to beat state tournament runner-up Waipahu's Chayen Kuamo'o-Malama by 172 pins, 2001 – 1829 to claim the boy's individual state championship for the Chargers. The Chargers placed three bowlers amongst the top five finishers.
Leilehua's Gwen Maeha won the girls individual championship with a total pin count of 1672.
BOYS FINAL TEAM STANDING (Top 3)
1. PEARL CITY Pins 8495
2, HAWAII BAPTIST Pins 7846
3. DAMIEN Pins 7782
GIRLS FINAL TEAM STANDINGS (Top 3)
1. PEARL CITY Pins 7469
2. HAWAII BAPTIST Pins 7416
3. MILILANI Pins 7075
CHARGERS BOYS FINAL INDIVIDUAL STANDINGS
1 Kristopher Yadao Total 731 Pins 2001
3 Bradley "Imi" Nakamura Total 634 Pins 1777
5 Ryan Kajihiro Total 617 Pins 1727
18 Blaise Dela Pena Total 544 Pins 1613
69 Cody-Schayne Castelo Total 508 Pins 1391
74 Denin Ching Total 484 Pins 1377
LADY CHARGERS FINAL INDIVIDUAL STANDINGS
3 Kylie Malilay Total 555 Pins 1572
4 Kristin Frost Total 542 Pins 1564
13 Sydni Inafuku Total 510 Pins 1478
14 Chelsi Morishige T otal 483 Pins 1472
36 Chailah Ganiron, Total 475 Pins 1383
FOURTH STATE CHAMPIONSHIP TITLE THIS WEEK
The PCHS Chargers athletics program won four state championships this past week with the Lady Chargers Air Riflery Team starting it off on Tuesday with an impressive team championship win at the 2015 HHSAA Civilian Marksmanship Program Girls Air Riflery Championship held at Kamehameha Schools-Maui. Yesterday's Boys and Girls state team bowling championships, along with Kristopher Yadao's individual state bowling championship brings the total state championship gold count to four.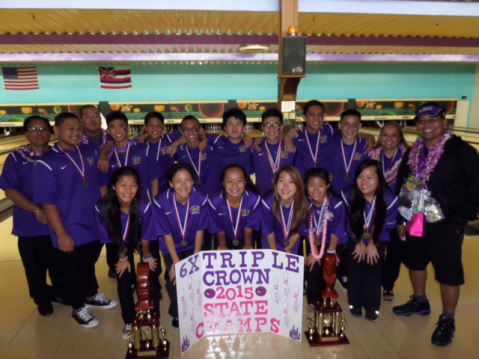 Photo courtesy of PCHS Athletics
CONGRATULATIONS CHAMPS!