The Pearl city Foundation held their annual Halloween Bash on Saturday, October 31 at the Momilani Community Center (MCC) in Pearl City. Trick or Treaters packed the MCC grounds that featured a Trick or Treat Village with candy booths, games, and prizes.
The PCF Halloween Bash also held their annual costume contest for keiki and adults. Winners received terrific prize packs with all contestants receiving goodie bags.
The Pearl City Community Association, along with community volunteers served up delicious, musubi, stew, kalua pig, and roasted chicken plates. An ice cold selection of soft drinks and water was also available for purchase. Proceeds from the food and beverage sales will go towards supporting our Pearl City Complex Schools. Thank you to PCCA President Jits Fujimura and former PCCA board member Leroy Ching and the PCCA volunteer crew for all their help!
Thank you to all the sponsors: Pearl City Foundation, Pearl City Community Association, US Med Urgent Care, HomeStreet Bank, and Enjoy Products.
Thank you to all the community volunteers who made the PCF Halloween Bash a safe and fun place to enjoy Halloween Night with family, neighbors, and friends!
A heartfelt thank you goes out to Naomi Tully-Ungacta, Programs Director, Pearl City Foundation, for her hard work along with her PCF crew, who organized and presented a wonderful event for all of us to enjoy!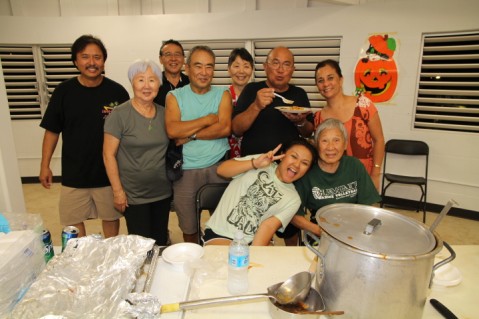 Photo by Barry Villamil | barry@mypearlcity.com
Mahalo to the PCCA, PCF Halloween Bash Food and Beverage Crew!