The Pearl City Chargers Boys and Girls wrestling teams open the 2015-2016 Oahu Interscholastic Association Wrestling Season with Round Robin Tournament competition on Saturday at Kalaheo High School. Weigh-in is scheduled for 8:30am with a 10:00am start time for the first matches of the day.
Returning Lady Chargers 2014-2015 HHSAA State Champion Asia Lien Evans will lead the Chargers into battle on Saturday.
GO CHARGERS!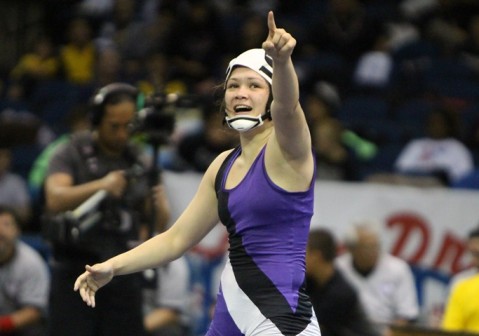 MyPearlCity.com File Photo | [email protected]
2014-2015 HHSAA 127 lbs.State Wrestling Champion Asia Lien Evans returns to lead the Chargers!

Evans is pictured moments after winning the 127 lbs. state championship wrestling title over
Kahuku's Anela Wasson (D:4-1) on Saturday, March 7, 2015 at Blaisdell Arena in Honolulu.
2015-2016 OIA Wrestling Schedule