Momilani Elementary School welcomed the first snowfall of the season on Tuesday compliments of Hui O Momilani (Momilani PTSO) and Mr. Verne Santos, owner of B&C Trucking who dumped 12 tons of snow in the parking lot near the school cafeteria for grades K-6 to enjoy.
Hui O Momilani and Mr. Santos partner each year to split the costs of the snow purchase. Mr. Santos also donates the snow pick-up and delivery via B&C Trucking. He truly enjoys supporting the Momilani student body and watching them play with their classmates in the snow each year. This is Mr. Santos fifteenth year in a row as a Momilani Snow Day sponsor.
"It's been about fifteen years now and every year is a joy to see these kids come out and play in the snow," said Mr. Santos. "It's 12 tons of snow and we donate half of it and the Momilani PTSO donates the other half. The really neat part is that they all write letters and I read all the letters. They talk about how thankful they are for bringing the snow. "Thank you Mr. Santos and B&C Trucking, it's the first time I've ever played in the snow and I'm so excited!"
"One morning, several years ago was the best Christmas I ever had," commented Mr. Santos. "We were sitting in my living room and I had all these letters. So my wife said what is this? I was just sitting back down in my lounge chair Christmas morning and they were opening and reading all the letters. It was so cool!"
I have to say that Mr. Santos is the COOLEST GUY in town (starting in Pearl City)!
Also, mahalo to Hui O Momilani for their endless efforts in support of Momilani Elementary School.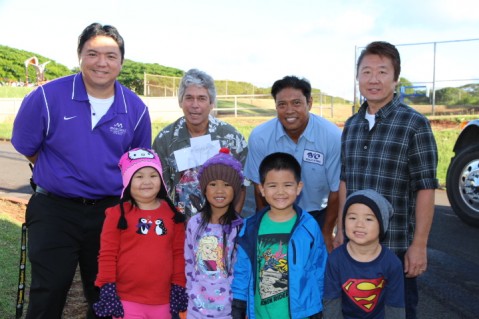 Photo by Barry Villamil | barry@mypearlcity.com
Momilani Elementary School students are pictured with (from L-R) Vice Principal Mr. Garrett Arakawa,

Mr. Verne Santos, Jose, and Counselor Mr. Lance Nishihara after presenting Mr. Santos with a gift
basket as a gesture of their appreciation for generously supporting their school each year on Snow Day.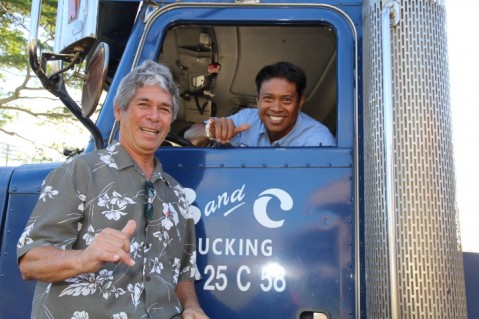 Photo by Barry Villamil | barry@mypearlcity.com
Mahalo to Jose for hauling the 12 tons of snow from Iwilei to Momilani Elementary School.