Robotics championship to qualify Hawaiʻi teams for Worlds event 3rd annual Hawaiian Electric Companies Hawaiʻi State VEX Championship, Dec. 12
Submitted by Hawaiian Electric:
The 3rd annual Hawaiian Electric Companies Hawaiʻi State VEX Championship, featuring 32 high school robotics teams from across the state, will be held Dec. 12, 2015 at the Pearl City High School cafeteria, 7:30 a.m. to 5:45 p.m. The championship, which will qualify six high school teams to participate in the VEX Worlds Championship in Louisvillle, KY next April 2016, is free and open to the public.
"VEX robotics and its partner programs are the fastest growing scholastic robotics programs in the world with more than 15,000 teams," said Art Kimura of the Hawaiʻi Space Grant Consortium, which organizes the competition. "The Hawaiʻi teams have competed in qualifying regional tournaments to advance to the State championship and through our sponsor, Hawaiian Electric Companies, will now have a shot at competing in the VEX Worlds event."
"To see the level of skill, ingenuity and innovation that these students bring to the robotics playing field is truly amazing," said Darcy Endo-Omoto, Hawaiian Electric vice president of government and community affairs. "For more than 30 years, Hawaiian Electric has been involved in STEM educational initiatives such as these robotics events which serve as a platform for inspiring Hawaiʻi's next generation of scientists, engineers and innovative problems solvers while also providing lessons in technology application, leadership and life skills."
The 2015-2016 VEX Game Challenge, Nothing But Net, pits an alliance of two teams ("red" and "blue") in timed matches on a 12' x 12' playing field. The object of the game is to attain a higher score than the opposing alliance by maneuvering the robots — in autonomous or driver-controlled play — to move colored balls across the field and into a net, as well as elevating an opposing team's robot, in order to score points.
Participating high school robotics teams in the Hawaiian Electric Companies Hawaiʻi State VEX Championship are from Campbell High, Castle High, Island Pacific Academy, 808 Robotics, Kaiser High, Kamehameha School, Mid-Pacific Institute, Pearl City High, Punahou School, Radford High, Sacred Hearts Academy, Waialua High and Waiʻanae High schools on Oʻahu; Hilo Viking Robotics, Kealakehe High, Konawaena High, Kohala High, Saint Joseph School on Hawaiʻi Island; Maui High on Maui; and Molokaʻi High on Molokaʻi.
For more information on the Hawaiian Electric Companies Hawaiʻi State VEX Championship, visit http://www.robotevents.com/robot-competitions/vex-robotics-competition/re-vrc-15-3584.html.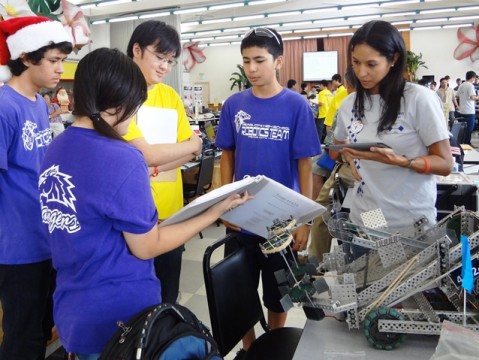 Photo provided by Hawaiian Electric
2013 State VEX Pearl City High School Team