Mililani motored past Pearl City 53-10 to open the 2015-2016 OIA Varsity Girls Basketball regular season on Tuesday, December 15 at Mililani High School.
The Lady Trojans took a commanding 32-3 lead at the half and outscored the Lady Chargers 21-7 in the second half.
Mililani's Kalena Gibson led all scorers with 11 points. Both Jazmina Lafitaga and Velisa Meleisea pumped in 9 points each for the Lady Trojans.
Pearl City's Shawnia Oliveros and Ashley-Tianna Amorin led the Lady Chargers with 4 points apiece. Shanelle Concepcion rounded out the Lady Chargers scoring with 2 points.
The Lady Chargers, who compete in the OIA D2 West, will take on their second OIA D1 West opponent in a row on Thursday, December 1, on the road at Radford. Radford (1-0) defeated Waianae (0-1) 34-13 Tuesday night at home.
JUNIOR VARSITY
PEARL CITY 14
MILILANI 34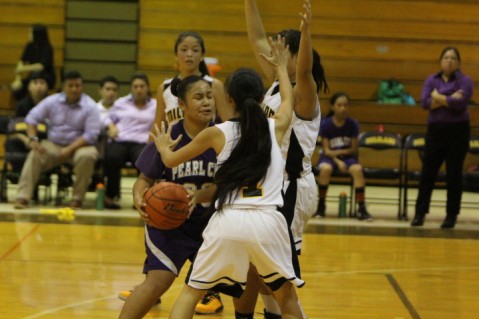 Photo by Barry Villamil | barry@mypearlcity.com